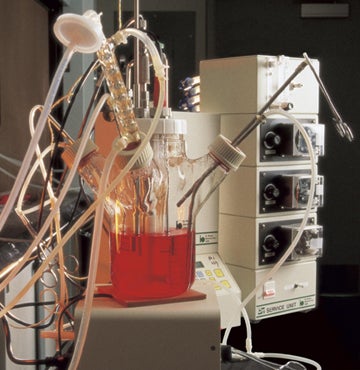 The biotechnology industry is one of the fastest growing industries in northeastern Ohio. More than 100 companies in the Cleveland area identify themselves as pursuing a biotechnology focus. The specific skills identified by employers as being required in the biotechnology field include basic engineering, quality control, laboratory, biochemistry and computer skills. To obtain a list of biotechnology, bioscience and medical companies in Ohio, click here and proceed to the Directory.
The Biotechnology certificate program in Engineering track addresses the diverse needs of this growing industry and the biotechnology community. The Certificate in Biotechnology, through its curriculum and instruction, meets the demands for a trained workforce with the unique skill set needed in northeastern Ohio and beyond.
What is Biotechnology?
Biotechnology is the manipulation of biological process to make products that benefit people. Biotechnology contributes to such diverse areas as food production, waste disposal, medicine and health care equipment.
Agricultural companies use biotechnology to develop pest- resistent crops and to increase the nutritional content of food. Chemical companies can use biotechnology to make biodegradable plastic. Many comapanies now apply the tools used to examine DNA in the search for new drugs.
Chemical engineers may design the processes and equipment for the large- scale manufacture of pharmaceuticals, may work in research and development of new products and techniques, or oversee quality assurance.
Upon completion of the Biotechnology Certificate graduates are well-prepared to enter professional practice or pursue an advanced education at the graduate level.
Goals of the program
Provide students who are working towards or already have a bachelor's degree the oppurtunity to add the necessary coursework that will enable them to focus on the biotechnology field.

Provide working technical professionals who are retooling their careers to be more competitive in the field with the oppurtunity to add credentials to their career portfolio.

Enable biotechnology corporations in Ohio to both compete in the global economy and to excel in their business.

Provide supplemental training to current full-time working technical professionals and students from other colleges.
Certificate in Biotechnology, Engineering Track*
Washkewicz College of Engineering
Required Courses
In addition, the following sequence must also be completed:
Contact the Department of Chemical and Biomedical Engineering at 216-687-2571 for additional information. See also the alternate tracks in the Department of Biological, Geological and Environmental Sciences and the Department of Operations Management and Business Statistics.
*Students in the Bachelor of Chemical Engineering program can earn this certificate by proper selection of electives, and with only two extra course.
Admissions
Currently enrolled students should contact their department to enroll in the certificate program. Others should complete an undergraduate admissions application form. Students do not need to be seeking a Cleveland State degree to enroll in the Biotechnology Certificate Program. For more information contact the Chemical and Biomedical Engineering Department at (216) 687 2571.