Room blocks are available at the following two hotels.
Hilton Garden Inn Cleveland Downtown
1100 Carnegie Ave
Cleveland, OH 44115
216-658-6400
Rate: $120 per night + $20 parking per day (Deal available until August 16, 2021)
Dates available: Wednesday September 15, 2021 – Friday September 17, 2021
The Cutoff Date for our block of rooms is:
August 16, 2021 - Final date for guest rooms to be reserved.
There are TWO ways your guests can make their reservations:
1] Your guests book their reservations online by visiting our website www.ClevelandDowntown.StayHGI.com 
          * Change the arrival and departure dates to when your guests would like to stay
          * Next confirm the number of rooms needed and number of guests staying in room
          * Click on box showing special rates; Click on Group Code Box & type in CSUCH Click the red Check Room & Rates button.
          * Select the room type your guests would prefer by selecting blue Quick Book button
          * Enter personal information
2] Your guests can call:
* 1-800-774-1500 or 1-877-782-9444 [Central Reservations]
* Ask for Cleveland State University – CHMS Meeting
* Supply the reservationists with their dates, personal information, and form of payment to guarantee the reservation.
Directions from Hilton Garden Inn to Wolstein Center (~10 minute walk)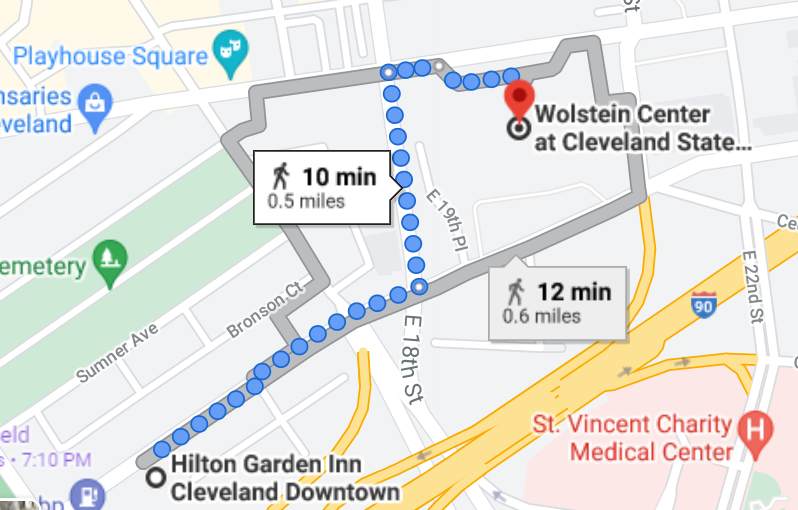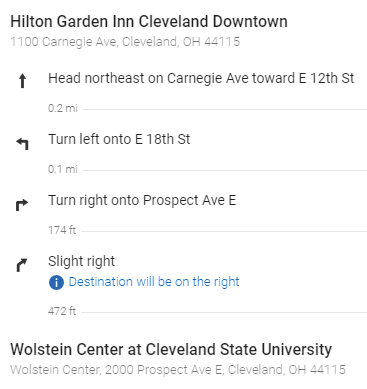 ---
Comfort Inn Downtown Cleveland
1800 Euclid Ave
Cleveland, OH 44115
216-861-0001
Follow this link for the hotel: https://www.choicehotels.com/ohio/cleveland/comfort-inn-hotels/oh16
Directions from the hotel to the Student Center (~ 4 minute walk)