​​​​​​Ediuska Laurens
​​​​​​​Ph.D. ABE '09
Founder, Genius Shield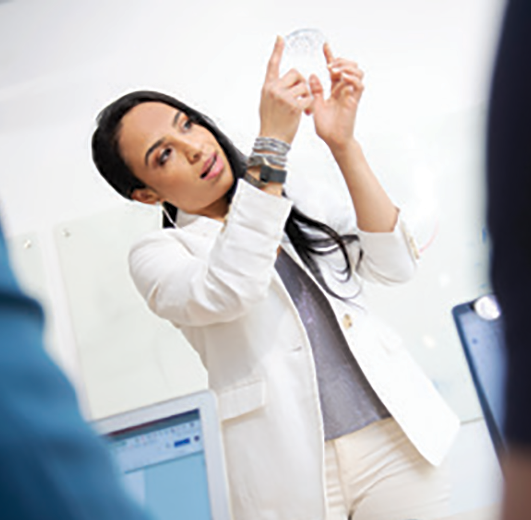 Dr. Ediuska Laurens, who earned a doctoral degree in Applied Biomedical Engineering in 2009 from a joint doctoral program of the College of Engineering of Cleveland State University and the Cleveland Clinic, invented a device to help infants who are born with jaws too small to function properly. 
"In plain English, we were making implants that are used to repair babies' heads," she says. 
It's called a pediatric mandibular distractor. At the time, she was leading a global research and development team at Stryker Corporation, a giant medical technology company, "and pretty much taking products from concept to global commercialization," she says. 
That means navigating the approval process of the U.S. Food and Drug Administration, which might sound like a chore. For Dr. Laurens, it was an adventure. 
"During product development, we had an explosion in one of our plants in Germany," she says. "When we were trying to do FDA approval, the U.S. government shut down. When we finally got clearance, we had to accelerate product launch, because there was already a surgery booked, so we needed to expedite everything. There's a baby that needs this." 
She emerged with a keen understanding of what the approval process does to ensure the quality of a new product, and also of the advantages she had because she was learning the process at a Fortune 500 company. That led her to form Genius Shield, which helps smaller companies navigate the system. 
"Unless you spend many years in the industry connecting the dots, like I had the opportunity to do, it's not going to make sense right away," Dr. Laurens says. 
Read complete article on Dr. Laurens in our 2020-2021 Washkwicz Magazine here.