Meshullam (Mesh) Feigenbaum
BSEE '85
Executive Vice President, Global Hard Alloy Products,
Nanshan America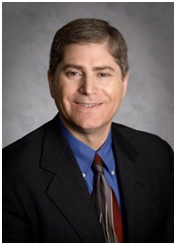 Following in his sisters' footsteps, Mesh Feigenbaum enrolled at Cleveland State University directly following high school. While attending the Fenn College of Engineering as a full-time electrical engineering student, he worked at catering and service jobs to cover the cost of tuition. Mesh felt that he got a well-rounded education from Cleveland State and specifically remembers his courses with professors George Kramerich and John Donaghue. "Beyond simply covering the course material, they were dedicated to instilling a discipline and sense of absolute standards. They held strong convictions as professors and those lessons have stayed with me all these years" Mesh recalls.
Following graduation Mesh joined Parker Hannifin Corporation's Aerospace Group. As a young engineer, his supervisors saw promise and talent in Mesh and invested heavily in him through management and business training. While Mesh initially resisted Parker Hannifin's urging to leave his roots in technical work, he eventually landed in the business and marketing end of the firm's operations. After sixteen years with Parker Hannifin, he joined Argo-Tech as the Marketing Director and later Aloca as the Director of Global Business Development. Mesh now serves as the Executive Vice President of Global Hard Alloy Products at Nanshan America where he oversees the core business and growth strategies for their aerospace products across the world.
Despite his busy schedule, Mesh takes the opportunity to present to students at CSU and other universities. Mesh's suggestion to students is to take your general education classes seriously. "You learn the technical part of your education in engineering courses; your core classes are where you learn to interact with other disciplines and communicate effectively." One of his favorite phrases is "life isn't graded on a curve" and he stresses to students that hard work and productivity are what really matter in the workplace and a key to being effective is the ability to communicate with and understand people from all disciplines.
Mesh is very proud of the transformation his alma mater has taken in recent years. So much so that he encouraged his children to follow in his footsteps. Two of Mesh's children graduated with high honors from CSU and two are currently enrolled and studying finance and engineering, respectively. Mesh recently witnessed Cleveland State's "engaged learning" experience first-hand at when he visited the Honors Program lounge and saw a mix of majors working together on a project, a testament to the well-rounded education provided to CSU students.