Posted on January 20, 2023 at 2:34 PM, updated January 20, 2023 at 2:49 PM Print
Mary Jo Chionchio recently established the Chub and Mary Jo Chionchio Graduate Internship Fund with Cleveland State University. The internship fund will support graduate students within the Center for Human Machine Systems.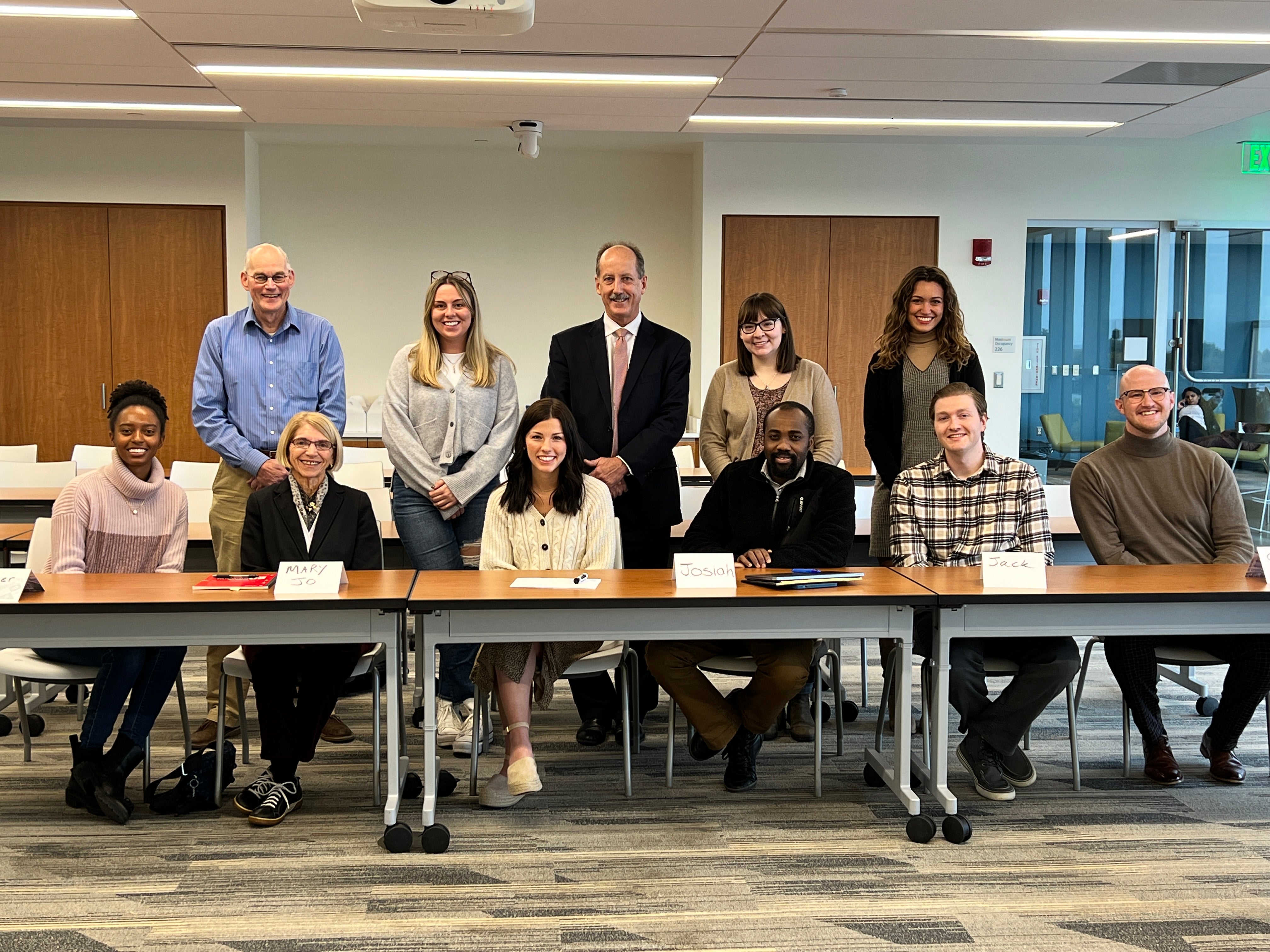 Pictured above: first row from left, Tayluer D Streat-Ricchiuti (BME), Mary Jo Chionchio, Shaye Teill (BME), Dr. Josiah S Owusu-Danquah (civil engineering), Jack Schultz (BME), Cameron LaMack (BME). Second row from left, Dr. Antonie "Ton" van den Bogert (mechanical engineering), Skye Carlson (BME), Dr. Brian Davis (Associate Dean), Lexie Mallinos (BME), Brittany Sommers (MCE). Not pictured Dr. Prabaha Sikder (mechanical engineering).
Mary Jo's belief in education and passion for experiential learning opportunities formed the foundation for this fund. She earned a Bachelor of Science in Education from the University of Akron ('64) and a Master of Science in Education from Kent State University ('70). In 2013, she retired from St. Vincent–St. Mary High School (STVM) after 49 years of service. During her time at STVM she served as a biology teacher, chair of both the Department of Health and Physical Education and then the Science Department, Project Director for the UA/STEM Research Experience, and coach for several sports, including Men's Golf, Women's Basketball, Women's Volleyball, and Women's Track.
In addition to her service inside the classroom and on the field of play, Mary Jo also worked in partnership with the University of Akron to create various practical learning experiences outside the classroom that advanced science education and STEM research opportunities for students.
About CSU and the Washkewicz College of Engineering
​​​​​​Cleveland State University is a public institution located in Cleveland, Ohio. The university has an enrollment of more than 16,000 students in programs at the baccalaureate, masters, and doctoral levels. The university is accredited by the Higher Learning Commission and is currently awaiting reaffirmation of accreditation. Washkewicz College of Engineering offers graduate and undergraduate program. The undergraduate programs are accredited by the Accreditation Board for Engineering and Technology (ABET) (http://www.abet.org). To learn more about the College, please visit: engineering.csuohio.edu.