The Dan T. Moore MakerSpace is a brand new innovation and design lab in the Washkewicz College of Engineering.
The Maker Manual has equipment and access information: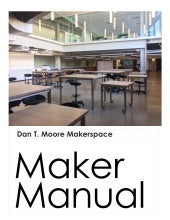 (Click on the Image to view Manual)
Who is Dan T. Moore?
Go here to learn more about the founding sponsor of our MakerSpace.
What is a MakerSpace?
A lab that provides hands on fabrication equipment for working with metal, wood and plastic.
Click the link below to watch a quick overview of the items showcased at the MakerSpace Open House.
Dan T. Moore MakerSpace Grand Opening
Do I have to know how to use the equipment?
The MakerSpace is about an experience not expertise. If you've never touched a piece of fabrication equipment before the MakerSpace is a great place to get trained and give it a try.
What are the lab hours?
Spring Semester 2020
M-Th. 10am-6pm, (6-8pm upon request) Fr. 10am-4pm
Who can use the lab?
Any CSU student or alumni!