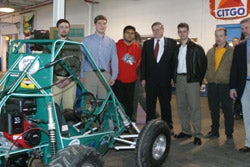 OPEN THE DOOR TO YOUR FUTURE ... JOIN TODAY! Applications are available in the Dean's Office, Fenn Hall, Room 104. Call: (216) 687-5272.
Washkewicz College of Engineering students enjoy access to many activities, both extra- and co-curricular. In fact, at least one organization exists for each engineering discipline.
Membership Advantages
Grow personally and professionally.
Participate in regional and national engineering competitions.
Meet other students from around the world .
Experience working in Professionally -minded teams.
Learn to solve "real world" problems..
Become involved in community service.
Improve academic standing.
Network with working professionals.
Attend conferences.
Develop long-term friendships.
Make use of student office space.
Avail yourself of chapter Scholarships.
Student Organizations 
Association for Computing Machinery (ACM)
Past President: Graham Sullivan
Email: g.sullivan69@vikes.csuohio.edu
American Institute of Aeronautics and Astronautics (AIAA)
President: Maggie Kolovich
Email: maggiekolovich@gmail.com
American Institute of Chemical Engineers (AICHE)
President: John Juchnowski
Email: j.r.juchnowski@vikes.csuohio.edu
American Society of Civil Engineers (ASCE)
President: Mary Ribar
Email: mary.ribar@yahoo.com
American Sociey of Engineers of Indian Origin (ASEI)
President: Arpit Patel
Email: arpit.ce27@gmail.com
American Society of Mechanical Engineers (ASME)
President: Robert Miller
Email: r.j.miller59@vikes.csuohio.edu
Air and Waste Management Association (AWMA)
President: Nikitha Shamirpet
Email: shamirpetnikitha@gmail.com
Engineers Without Borders (EWB)
President: Mason Lang
Email: m.j.lang24@vikes.csuohio.edu
Eta Kappa Nu (HKN)
President: Yang Zhao
Email: y.zhao16@vikes.csuohio.edu
International Civil Engineering Student Association (ICESA)
President: Mohamad Toufic Younes
Email: m.younes@vikes.csuohio.edu
Institute of Electrical and Electronics Engineers (IEEE)
President: Dan O'Donnell
Email: danodonnell55@gmail.com
National Society of Black Engineers (NSBE)
President: George Chaney Jr
Email: g.chaney@vikes.csuohio.edu
Society of Automotive Engineers (SAE)
President: Simran Singh
Email: ssingh78487@yahoo.com
Society of Hispanic Professionals Engineers (SHPE)
President: Victor Rosa
Email: v.rosa@vikes.csuohio.edu
Society of Women Engineers (SWE)
President: Scheherazade Labonne
Email: s.labonne@vikes.csuohio.edu
Tau Beta Pi (TBP)
President: Erin Tesny
Email: e.tesny@vikes.csuohio.edu
Regional and National Engineering Competitions
Projects may include the Baja Car, the Steel Bridge, the Chem-E Car, Robotics, the Design, Build and Fly Competition, Environmental Projects, and more.