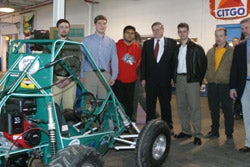 TOP
Open the door to your future. Join today!
Click here for the online application. 
Washkewicz College of Engineering students enjoy access to many activities, both extra- and co-curricular. In fact, at least one organization exists for each engineering discipline.
Membership Advantages
Grow personally and professionally
Participate in regional and national engineering competitions
Meet other students from around the world
Experience working in Professionally -minded teams
Learn to solve "real world" problems
Become involved in community service
Improve academic standing
Network with working professionals
Attend conferences
Develop long-term friendships
Make use of student office space
Avail yourself of chapter Scholarships
Regional and National Engineering Competitions
Projects may include the Baja Car, the Steel Bridge, the Chem-E Car, Robotics, the Design, Build and Fly Competition, Environmental Projects, and more.
Student Organizations