Posted on March 2, 2015 at 11:28 AM, updated June 11, 2020 at 4:40 PM Print
Job Shadowing Inspires Future Engineers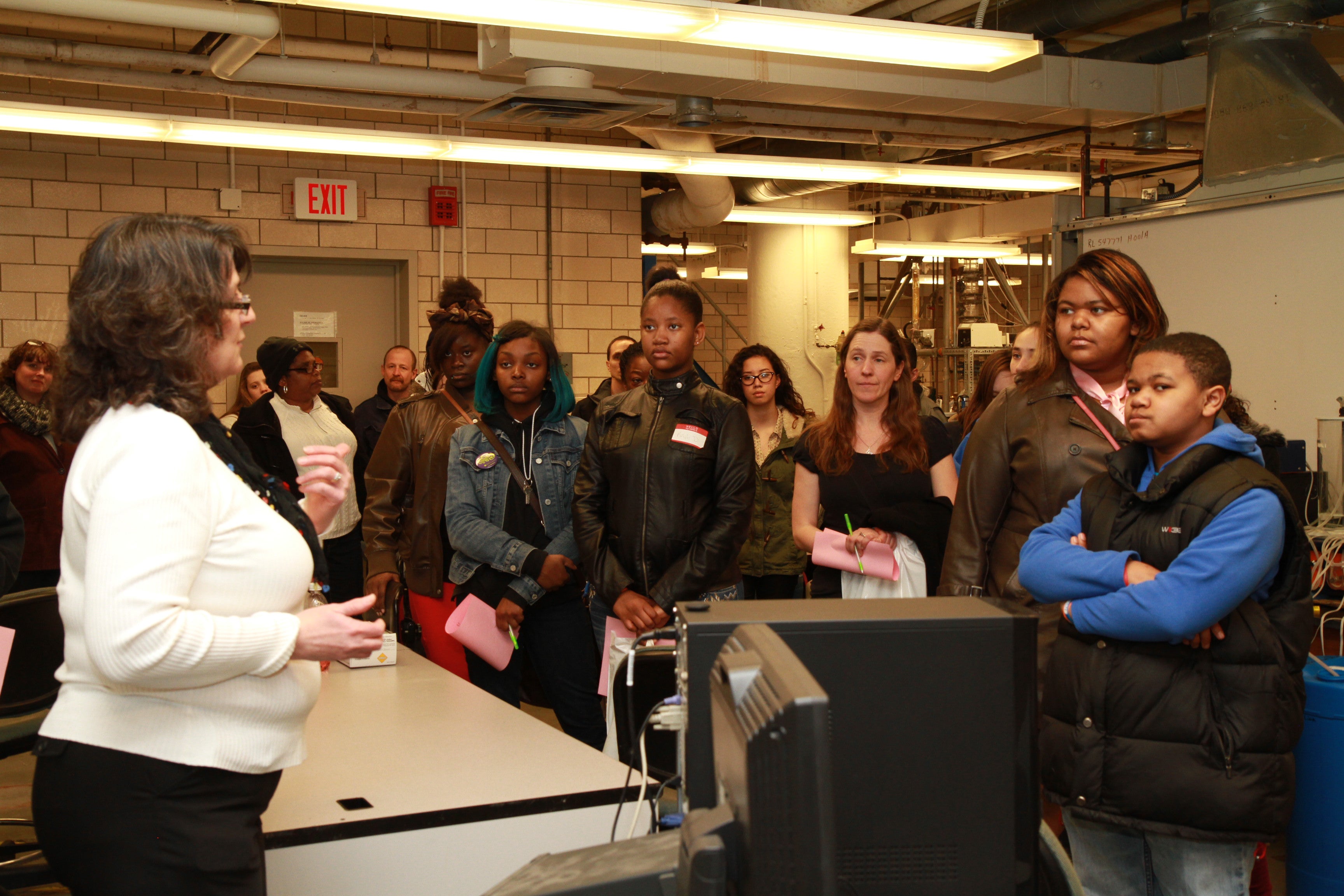 The Fenn Academy at Cleveland State's Washkewicz College of Engineering held its annual Engineer-For-A-Day Job Shadowing Program orientation on Saturday, February 7, 2015. About 170 students and parents participated in activities during a three hour on-campus program. Events included an engineering college tour, overview of engineering disciplines, an admissions presentation, lab demonstrations and opportunities to meet professors, engineering student group leaders and student services staff, including an academic advisor.
Now in its sixteenth year, the shadowing program has placed over 1,500 NE Ohio high school students with dozens of local engineering organizations for a one-day opportunity to learn about the students' preferred field. While at CSU, students and parents explored the Unit Operations Lab, Parker Hannifin Motion and Control Lab, the Driving Simulator Lab, Digital Systems lab, and more. Presentations were given by engineering professors Dr. Ton van den Bogert, Dr. Joanne Belovich, Dr. Jaqueline Jenkins, Dr. Pong Chu and Dr. Chansu Yu. Students also had an opportunity to meet with Serreta Archer, an engineering academic advisor, as well as Zack Nichols, a CSU enrollment representative. Engineering students, including Ankur Mantri, Brianna McKinney, Prahar Vaidya, and Ranjith Bommana assisted with tours and activities.
According to Gregg Schoof, Manager of Engineering Student Programs, about 50 engineers volunteered to sponsor students on February 20th. Eighty-five students registered to participate at engineering organizations including NASA, General Motors, the Cleveland Clinic, NALCO/First Energy, Lubrizol, Ford, Middough, Turner Construction, and more. "The program enables students to inquire further about career opportunities, visit operational facilities and learn about the education and skills needed to become a future engineer. Students are inspired by exploring fields including civil, mechanical, electrical, computer, chemical and biomedical engineering," Schoof said.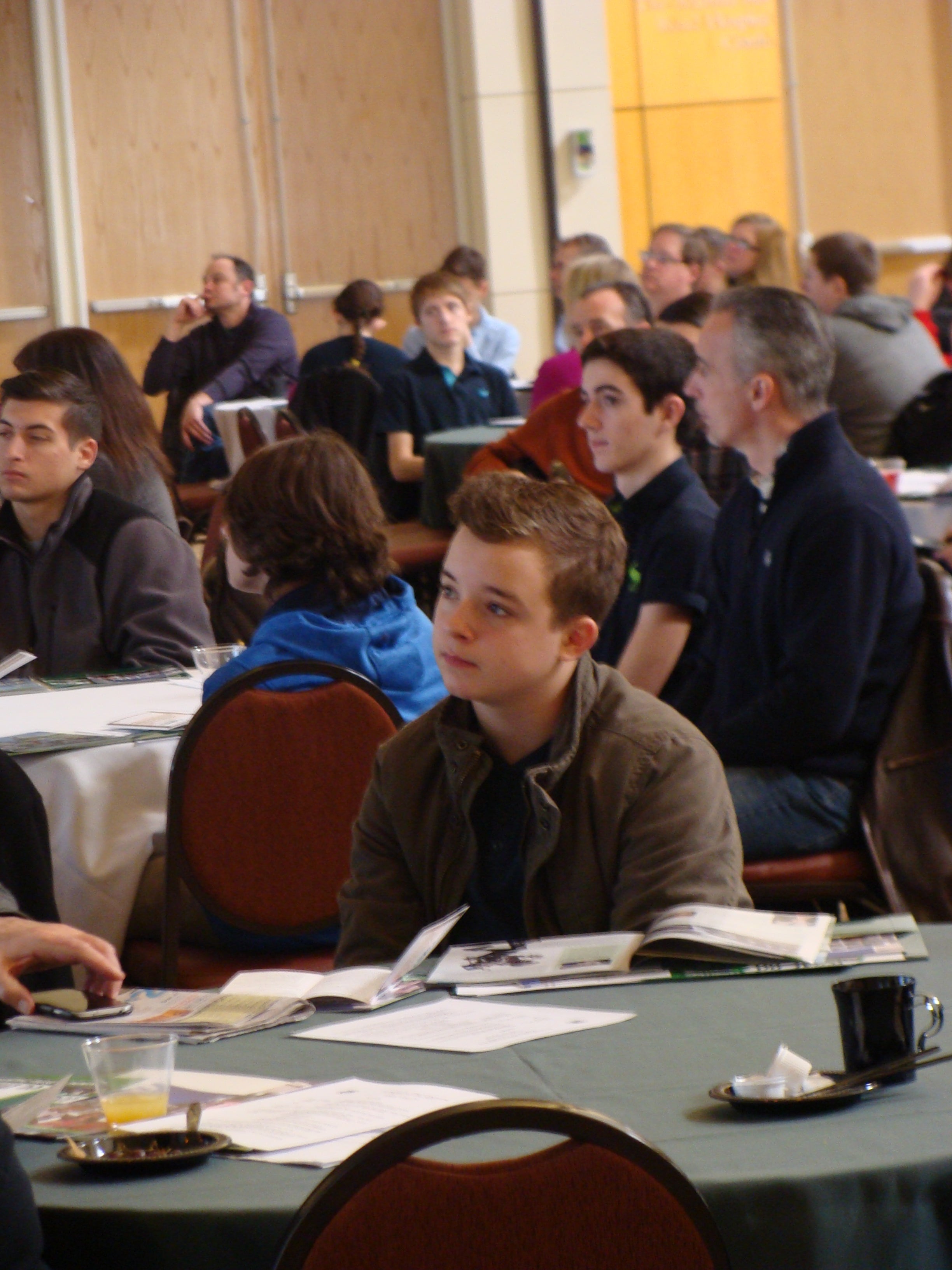 The Engineer-For-A-Day Program is funded through the recruiting and community outreach program of the Washkewicz College of Engineering, known as the Fenn Academy. Founded in 2005, the Fenn Academy now serves 50 partner high schools in a five-county region in NE Ohio. Its newest and first out-of-state partner is Dansville High School in Dansville, New York.
"The support that we receive from generous corporate sponsors, government agencies and individual donors reflects well on Cleveland's reputation for philanthropy, "said Dr. Anette Karlsson, Dean of the Washkewicz College of Engineering. "We are grateful for their shared vision to improve our community."
"In 2014, the program served over 1,200 students on and off campus and provided scholarship support for many incoming freshmen. In addition, the Fenn Academy's new small grants program distributed $6,000 to high school teachers in support of creative pre-engineering activities, all thanks to contributions received from Lincoln Electric, Lubrizol, and Middough, Inc.," said Dr. Majid Rashidi, Director of the Fenn Academy.