Unfortunately, due to COVID-19, the 2020 Senior Design Symposium has been cancelled.
For more information about how Senior Design is proceeding during the COVID-19 pandemic, please click here. 
---
2019 Senior Design Symposium
The 2019 Senior Design Symposium and Awards Dinner of the Washkewicz College of Engineering took place on Friday, May 3, 2019 in the Student Center. Senior students had the chance to display their projects in a poster session, which was followed by the awards dinner with a keynote speech by Patricia Babington, Vice President of Engineering Services, Operations and Engineering Services at Rockwell Automation.
The awards ceremony included the recognition of this year's University Valedictorian, Jen Wisniewski, from the Department of Mechanical Engineering, and the Salutatorian, Kayli Senedak, from the Department of Civil Engineering.
Symposium Photos
To view and order photos rom the event click here.  Use the following 4-digit PIN to download photos: Download PIN 4014.
Following are the winners of the poster competition: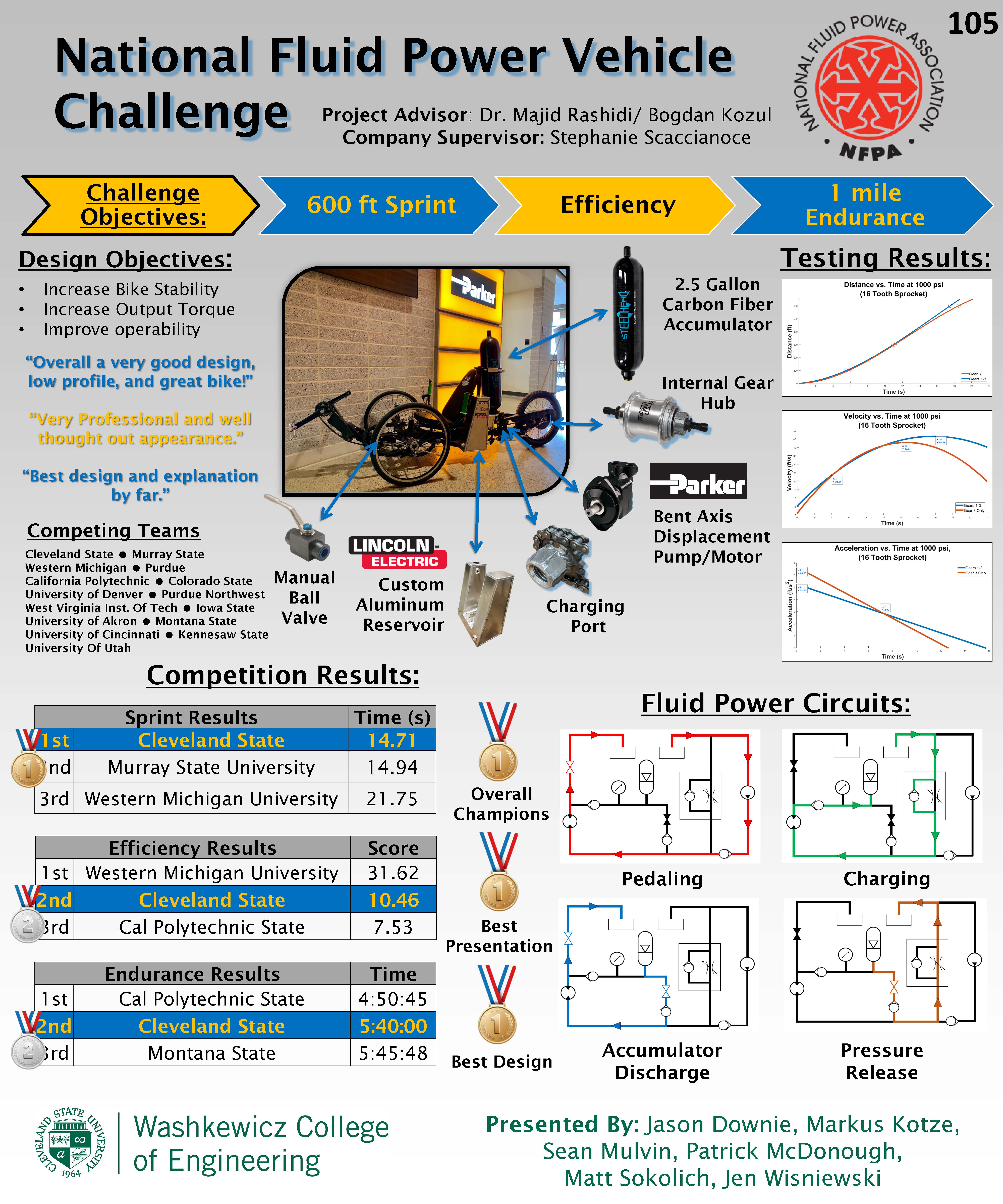 1st Place National Fluid Power Vehicle Challenge
Team Members: Jason Downie, Markus Kotze, Sean Mulvin, Patrick McDonough, Matt Sokolich, Jen Wisniewski
Faculty Advisors: Dr. Majid Rashidi and Bogdan Kozul
Sponsor and Supervisor: Stephanie Scaccianoce, National Fluid Power Association
Department: Mechanical Engineering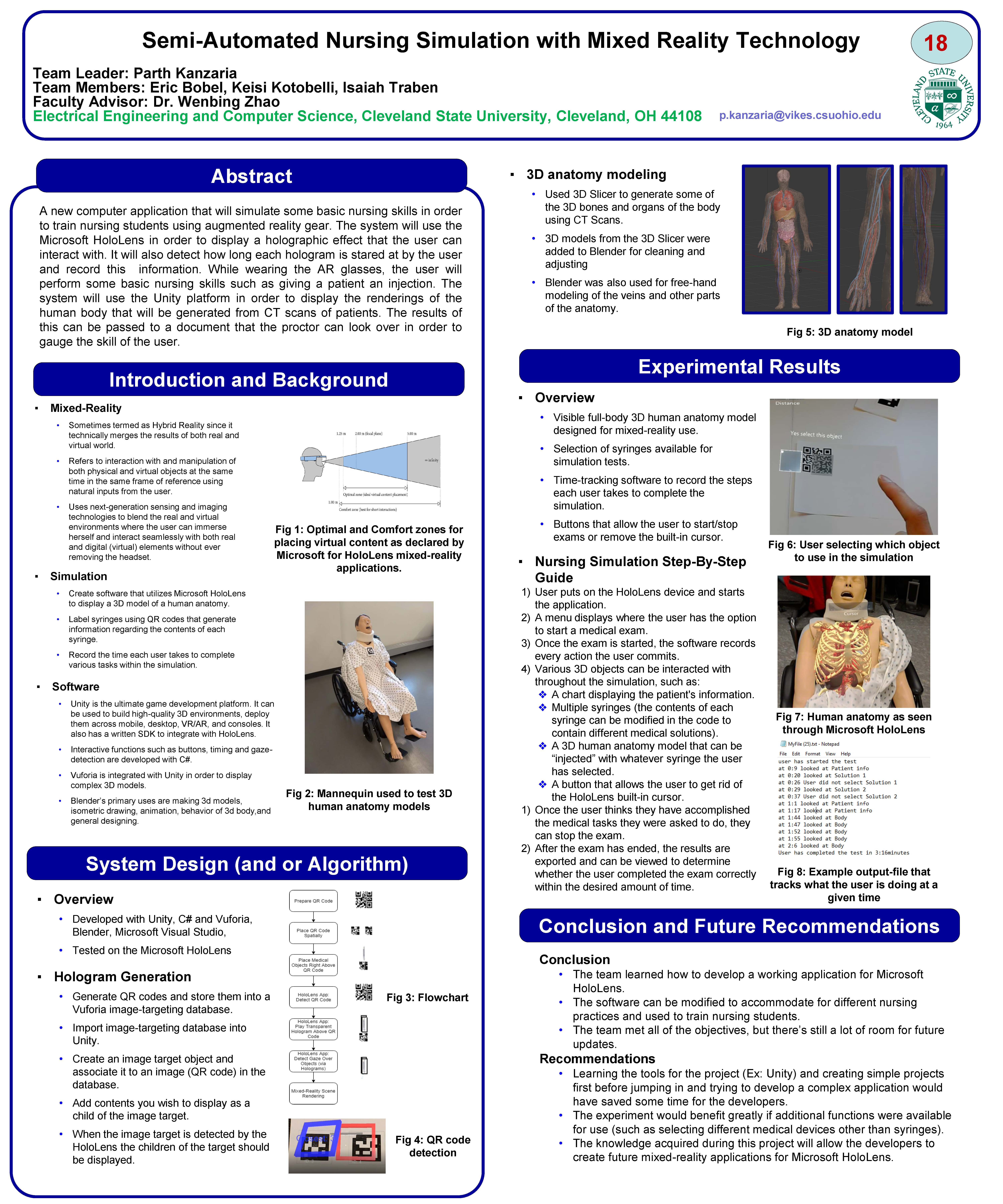 2nd Place Semi-Automated Nursing Simulation with Mixed Reality Technology
Team Members: Parth Kanzaria, Lead, Eric Bobel, Keisi Kotobelli, Isaiah Traben
Faculty Advisor: Dr. Wenbing Zhao
Sponsor: Cleveland State University
Department: Electrical Engineering & Computer Science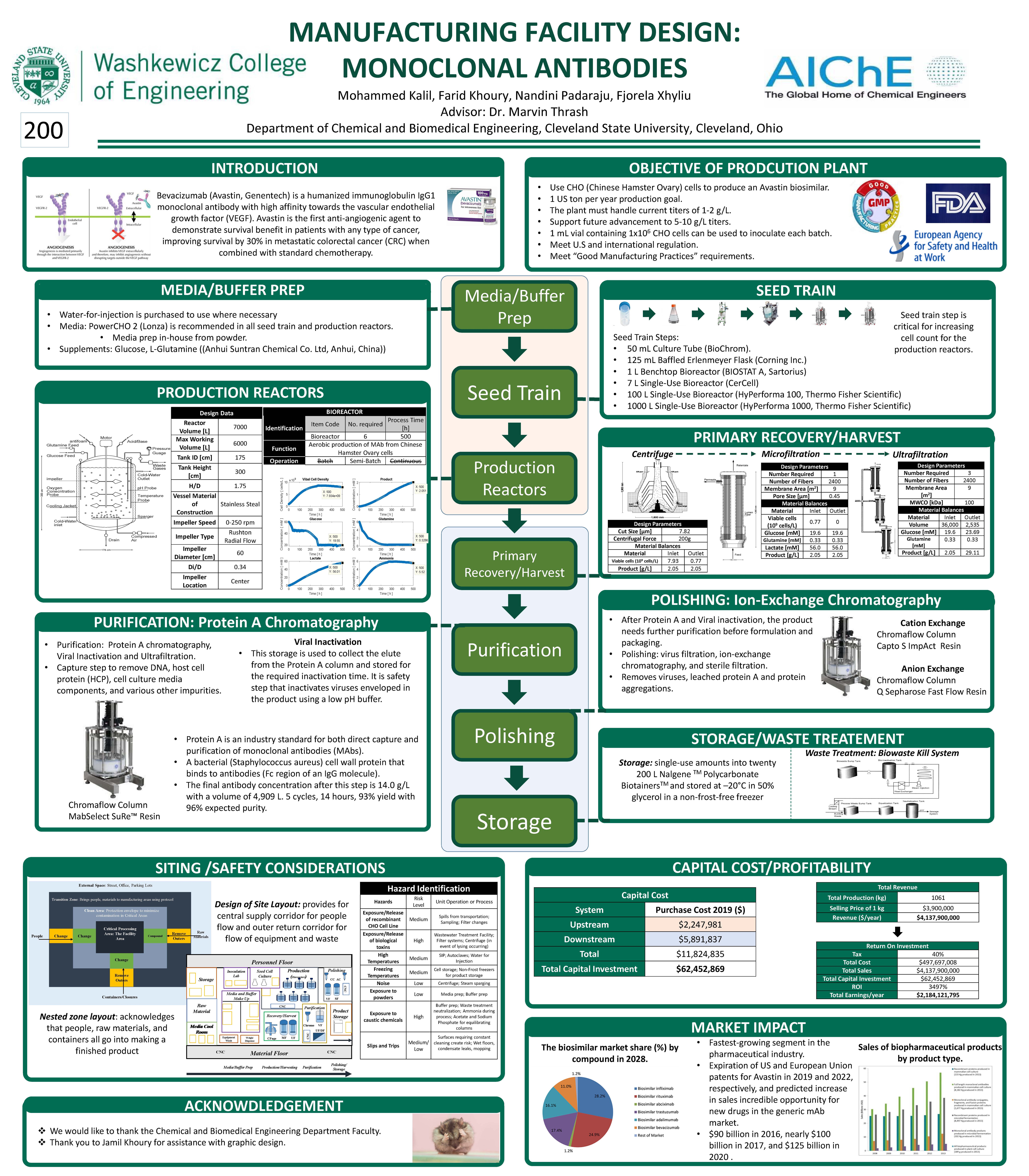 3rd Place Monoclonal Antibodies
Team Members: Mohammed Kalil, Farid Khoury, Nandini Padaraju, Fjorela Xhyliu
Faculty Advisor: Dr. Marvin Thrash
Sponsor: Cleveland State University, AIChE
Department: Chemcial and Biomedical Engineering
 
History
The Senior Design Capstone Course (Senior Design) is the culmination of students' engineering education at Cleveland State University's Washkewicz College of Engineering. The two-semester (Fall, Spring) long course gives students' the opportunity to incorporate engineering principles learned throughout their academic careers into one final project.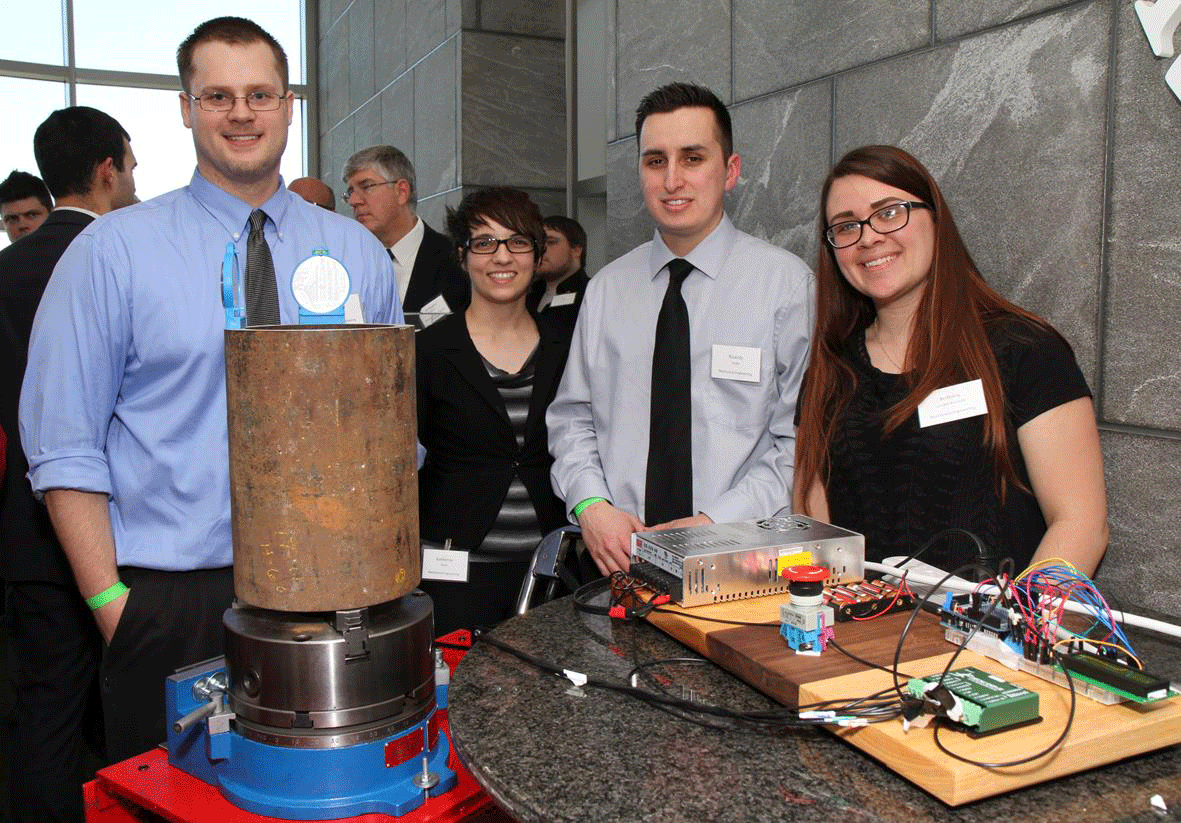 Students, with the guidance of a faculty advisor and company liaison, work in teams of 3-4 to develop solutions to a wide variety of engineering problems. The majority of the projects are real-world problems provided by corporate sponsors. Student teams are required to develop a comprehensive project plan with a problem description, design alternatives, budget, equipment requirements, time schedule, final design, and in most cases, a prototype. Each student is expected to spend up to 200 hours working on the project (up to 1,000 person-hours per team), corresponding to a five credit hour course.
The course concludes with each team making a final presentation to a panel of faculty and industry representatives, and the top three Senior Design teams are awarded cash prizes at our Senior Design Symposium and Awards Dinner.