Northern Ohio Live Awards
University recognized in two categories
Cleveland State was recognized in Northern Ohio Live's 26th annual Awards of Achievement, with two events honored during a gala dinner at the State Theatre and featured in the magazine's October issue.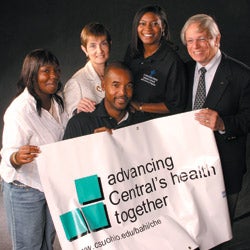 (l-r) Valerie Johnson, Bette Bonder, Peter Whitt, Lena Grafton, George Weiner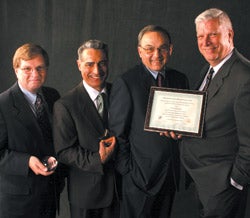 (l-r) David Estrop, Bahman Ghorashi, Ron Ledin, Charles Alexander
Photos by Herbert Ascherman, Jr.
Cleveland State's Fenn Academy received an honorable mention in the education category, while a research partnership to fight obesity in the Central neighborhood received an honorable mention in the health and medicine category.
The National Institute of Health's National Center on Minority Health and Health Disparities awarded Cleveland State $1.3 million to fight obesity in Cleveland's Central neighborhood.
The unique, three-year project teams CSU faculty and Central residents, using a method called community-based participatory research, to target the causes and effects of obesity in order to fight the nationwide epidemic. Findings from the study will be used to address obesity problems specific to poor communities.
Dr. George Weiner, director of CSU's Center for Health Equity, is heading the team effort.
Fenn Academy, a consortium between the Fenn College of Engineering and local high schools and corporations, is unique in Ohio. Its purpose is to attract high school students to various engineering fields; to support those students with technical, and when possible, financial means throughout their entire educational experience, starting in high school and progressing through their college years; and to bolster economic development in Northeast Ohio. Dr. Bahman Ghorashi is Fenn Academy's director.
Educational partners include Lakewood, Euclid, Mentor and Aurora high schools, the West Shore Career Technical Education District, the Six District Compact (Kent, Hudson, Stow/Munroe Falls, Cuyahoga Falls, Tallmadge and Woodridge) and Cuyahoga Valley Career Center (Brecksville/Broadview Heights, Garfield Heights, Independence, Nordonia, North Royalton, Revere and Twinsburg).
Corporate partners include Middough Consulting Inc., Parker Hannifin Corporation, Rockwell Automation, Lubrizol and Great Lakes Construction Company.
Fenn Academy introduces high school students to the potentials and possibilities of college life, educates the technical work force that is needed to meet the growing needs of regional industries, and will provide a pipeline of qualified engineers for the future.