Posted on January 22, 2016 at 2:50 PM, updated July 13, 2016 at 5:06 PM Print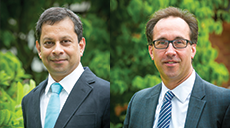 (L-R) Kahn, Adams

Cleveland State University's Washkewicz College of Engineering appointed Dr. Michael L. Adams as Chair of the Department of Engineering Technology, effective July 1, 2016, and Dr. Lutful Khan as Chair for the Department of Civil and Environmental Engineering, effective August 1, 2016. 
A national search was conducted for the Engineering Technology Department Chair where Dr. Adams emerged as a strong, innovative leader. He will join the Engineering Technology Department as an Associate Professor. 
With multiple potential leaders within the Department of Civil and Environmental Engineering, Dr. Khan emerged as a clear visionary leader for the department and received solid support from faculty and his peers. 
"I am confident that under Drs. Adams' and Khan's leadership, the Departments of Engineering Technology and Civil and Environmental Engineering will prosper and reach their full potential," said Dean Dr. Anette Karlsson.
Dr. Michael L. Adams earned his Ph.D. in Mechanical Engineering from Case Western Reserve University in 2001. He is currently a College Associate Lecturer in the Mechanical Engineering Department at Cleveland State University and an Adjunct Assistant Professor in the Department of Electrical Engineering and Computer Science at Case Western Reserve University. He also owns his own consulting company, Mechanical Vibration Innovations, LLC. His areas of interest include mechanical vibration, sensor development, signal processing, machinery troubleshooting and design. He is an enthusiastic educator, often bringing elements of his research and industrial experience into the classroom.
Dr. Lutful I. Khan obtained his doctoral degree from Lehigh University, Pa., in 1991 and joined the Civil and Environmental Engineering Department at Cleveland State University in the same year.  His research interests include deep foundations, retaining walls, soil stabilization, terrestrial and microgravity porous media flow, soil decontamination and reuse of industrial wastes. Some of his innovations include development of a novel soil decontamination process using coupled electric-hydraulic gradient, Kaolinite clay based hydrophilic treatment of non-wetting porous graphite and stainless steel and development of porous media based passive condenser heat exchangers for terrestrial and microgravity environments. Dr. Khan is a registered Professional Engineer in the State of Ohio.
About the Washkewicz College of Engineering
Since 1923, the Washkewicz College of Engineering has provided a tradition of high quality undergraduate and graduate education in engineering and engineering technology. Located on the campus of Cleveland State University in the heart of downtown Cleveland, the College is home to 2,500 students and is consistently ranked as one of the top engineering colleges in the state and nation.