Posted on August 28, 2023 at 5:55 PM, updated August 30, 2023 at 12:24 PM Print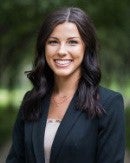 Shaye Tiell received a BS degree from the University of Akron in Biomedical Engineering. She "chose this major due to my passion for helping others, and my love for STEM especially anatomy and physiology. As a child, however, I grew up wanting to be an artist. So, a career as a biomedical engineer felt like it marked all the boxes for me! It wasn't until my sophomore year when I started working in the research lab with Dr. Brian Davis that I really found my passion. Ultimately, Dr. Davis and the ability to work closely with the Cleveland Clinic were my main reasons for choosing CSU. I wanted a new experience and to further build my network." Shaye shared. She went straight from bachelors to the doctoral program at Washkewicz College at Cleveland State University (CSU). She also credits her family. "My family means everything to me. Without their support, I would not be where I am today. I am endlessly thankful for them and all that they do for me," she said.
Shaye also shared some of her highpoints and challenges of being at student at Washkewicz College of Engineering. Her high points are: Establishing the American Society of Biomechanics (ASB) student chapter at CSU, being awarded the NSF fellowship, being nominated and elected as the International Society of Biomechanics (ISB) student representative and the friendships she has built at CSU. She openly shared one of challenges that plague many and that is imposter syndrome, hence the "focusing on your personal journey and not comparing yourself to others," she said. "To elaborate, I actually had never heard of imposter syndrome until grad school. Once I learned about it, I felt very validated in my feelings knowing that I was not alone.
Shaye was recently elected to serve as the student representative on the Executive Board of the International Society of Biomechanics (ISB). Her term began at the ISB meeting in Fukuoka, Japan this July 2023, and conclude in 2025 at the meeting in Stockholm, Sweden. "During that period, Shaye will lead efforts to promote biomechanics around the world. This is an awesome opportunity for her," said Dr. Brian L. Davis, Associate Dean of Research and Graduate Affairs and Interim Chair, Department of Mechanical Engineering. He added, "Shaye is the second CSU doctoral student to serve in this capacity. The first was Ediuska Laurens who served from 2007 until 2009."
Tiell shared, "the first conference I ever attended was as an undergraduate student in 2019. I attended the ISB 2019 Congress XXVII in Calgary, Canada. While attending an international conference as a "first-timer" was incredibly overwhelming, it was even more daunting as it was my first time ever presenting my research. However, I quickly found that the culture of ISB is unlike any other I would come across. ISB welcomed me with open arms. When I, or other individuals presented, I found that researchers from around the world were not only interested in what (people) had to say but they were kind in providing alternative perspectives. I have since been to other conferences that have truly shown me how wonderful this society is. At that first ISB conference, I made connections and friendships that have stuck with me over the years.
"In 2021, my second ISB conference was held virtually due to the pandemic. Seeing the community in all different time zones making the most of the circumstances was astonishing. Most recently, at my third ISB conference in Fukuoka, Japan, I presented and was elected to the ISB Executive Council as the Student Representative. I attended my first council meeting as well. I can truly say that over the years, the friendships and connections made through ISB have been so impactful on my personal life and career. The culture continues to be undeniably and uniquely positive. I am honored and humbled as I will now get to help make a difference in the lives of other students within ISB and around the world.
I think Dr. Davis, and CSU in general, does an incredible job with regard to inclusivity and belonging. "Overall the environment here has been a blessing that I did not know I (needed), but am very thankful for. I am truly honored to have been given this opportunity."
Shaye's final thoughts on her life lessons to date and what she would advise others is that, "when one door closes, another opens. Stay persistent in working towards your dreams."
About CSU and the Washkewicz College of Engineering
​​​​​​Cleveland State University is a public institution located in Cleveland, Ohio. The university has an enrollment of more than 16,000 students in programs at the baccalaureate, masters, and doctoral levels. The university is accredited by the Higher Learning Commission and is currently awaiting reaffirmation of accreditation. Washkewicz College of Engineering offers graduate and undergraduate program. The undergraduate programs are accredited by the Accreditation Board for Engineering and Technology (ABET) (http://www.abet.org). This year, the College will celebrate its Centennial Anniversary. To learn more about the College, please visit: engineering.csuohio.edu.