Posted on September 25, 2023 at 10:56 AM, updated September 25, 2023 at 11:01 AM Print
Students attempt to build a flying machine using the engineering savvy learned at CSU's Washkewicz College of Engineering.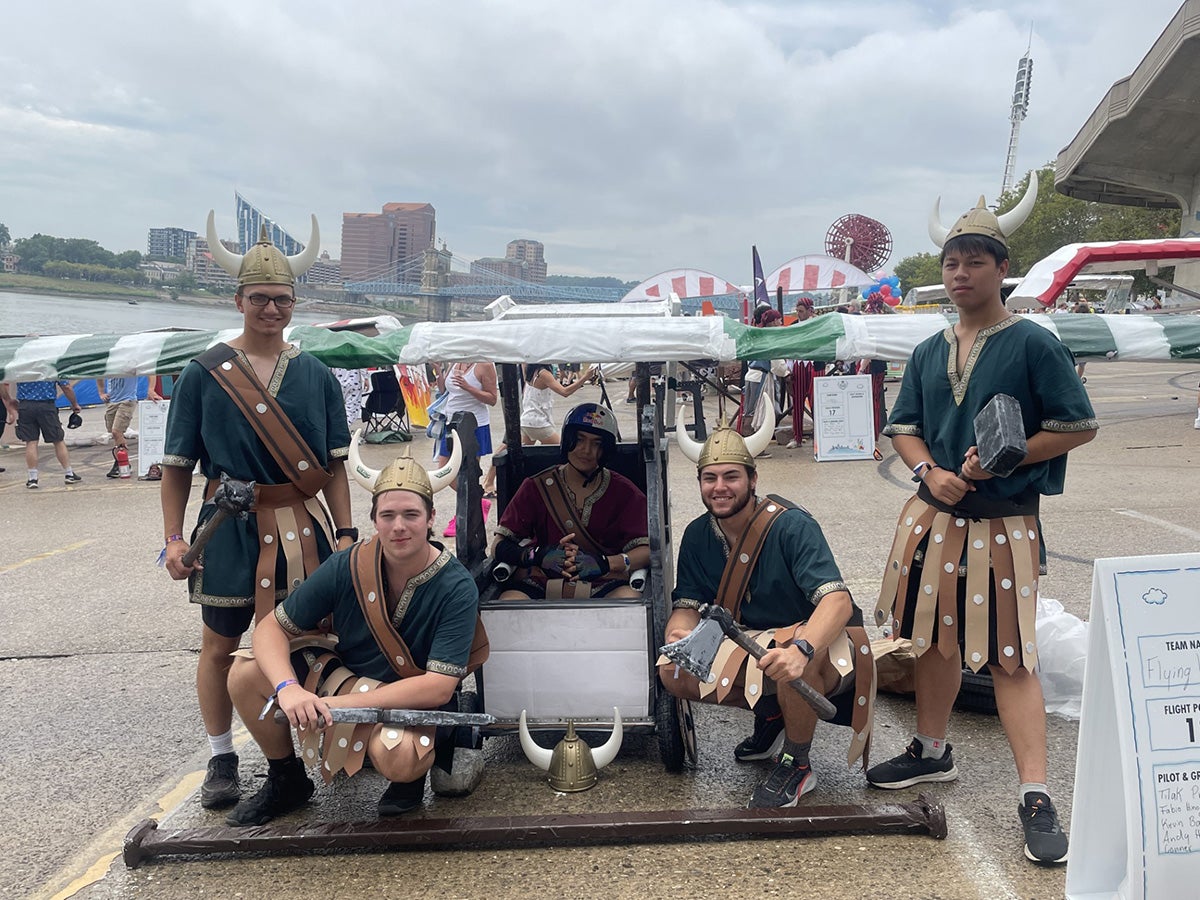 Throughout a lifetime, many dream of creating a flying device to revolutionize the way we travel, yet it always seems to elude those who attempt it.  
 
That is, until now.   
 
Well, sort of. 
 
With Ohio historically known worldwide as the "Birthplace of Aviation," Cincinnati appropriately served as the host for the Red Bull Flugtag, an event first started in 1992 over the picturesque Danube River in Vienna, Austria, that has since been held in 50 countries and 96 cities. This installment, at Yeatman's Cove Park on August 12, saw 40 teams competing for the crown in front of nearly 30,000 spectators who soaked in the action along the banks of the Ohio River.  
 
One of the teams in the running was Cleveland State's own "Flying Vikings," a five-person squad comprised of the Engineering American Institute of Aeronautics and Astronautics (EAIAA) student club including: 
 
Conner Bailey, Computer Engineering  
Tilak Pradhan (the pilot), Mechanical Engineering 
Fabio Jimenez, Computer Science 
Nguyen Minh Ho, Electrical Engineering 
Kevin Baldoza, Electrical Engineering 
 
"Most of our teams had seen videos of past Red Bull Flugtag competitions, and [we] thought it looked interesting," said Baldoza. "When we found out that this year's competition was in Cincinnati, we saw no reason not to apply and compete." 
 
To be considered for the competition, teams were required to complete an application with their design plans and a few reasons why Red Bull should select them from the hundreds of other applications submitted by teams nationwide. 
 
"It was one of those things where you apply to and think, 'Yeah, this would be great,'" said Baldoza. "But when we found out we had qualified, it was amazing." 
 
So, what is the name of the game, you ask?  

Oh, you know, to design and construct a one-person glider only to have it launched off a 22-foot-high flight deck.  

If that isn't enough, beforehand, each team must perform a 30-second skit, and then it's bombs away as four members push the glider down the runway and off the platform while one person is behind the wheel. Each team is graded on their design's creativity, skit, and the distance their craft flies. 

The stars were out at the judges table with former Cincinnati Bengals wide receiver Chad (Ocho Cinco) Johnson, Olympic skier Nick Goepper, Cincinnati drag queen and entertainer Jessica Dimon, TikTok personality Cale Saurage, and media personality Chloe Pavlech all watching intently.   
In the end, the Flying Vikings finished a respectable 24th, something Baldoza said was pretty good, considering it was their first go-around. 
 
"Everyone put in many hours of hard work in the week leading up to the competition, and it really paid off," he said. "We made it a distance of 39 feet, which is further than most of the other crafts [and] considering it was our first Red Bull Flugtag competition as a group, I am happy with how we did." 
 
While Baldoza said they could have made the glider a little bigger, it's all part of the learning process as they look to the future and other competitions to enter into. 
 
"Being our first competition as a group, it gave us a chance to refine our processes [and that] applies to both the engineering and design realm, as well as how we want to handle future competitions and projects on the administrative side," he said. "There are plans for more competitions, we are considering applying for Flugtag next spring, but we are also looking into other aerospace and rocketry competitions."  
 
Baldoza believes this kind of exposure will get others interested in joining in on the fun and helping put CSU on the map regarding Aeronautics and Astronautics. 
 
"It was a great experience for our club, [and] we are looking forward to future competitions and projects," he said. "I hope this encourages others to look into joining us!" 

To watch how the "Flying Vikings" did at the Red Bull Flugtag, please click here.
This article originally appeared in the Cleveland State University newsfeed.
About CSU and the Washkewicz College of Engineering
​​​​​​Cleveland State University is a public institution located in Cleveland, Ohio. The university has an enrollment of more than 16,000 students in programs at the baccalaureate, masters, and doctoral levels. The university is accredited by the Higher Learning Commission and is currently awaiting reaffirmation of accreditation. Washkewicz College of Engineering offers graduate and undergraduate program. The undergraduate programs are accredited by the Accreditation Board for Engineering and Technology (ABET) (http://www.abet.org). This year, the College is celebrating its Centennial Anniversary. To learn more about the College, please visit: engineering.csuohio.edu.