Posted on January 18, 2023 at 10:42 AM, updated January 18, 2023 at 11:24 AM Print
During the snow season, maintaining road surface quality is job #1 for the Ohio Department of Transportation (ODOT). If truck drivers with insufficient training plow snow on busy Ohio roads under adverse weather and traffic conditions, serious safety issues can result. To make sure that plow drivers are ready for these challenging situations, Dr. Hongkai Yu, an assistant professor in the Department of Electrical Engineering and Computer Science (EECS), has been awarded a two-year, $400,000 grant to develop comprehensive driving simulations customized to ODOT's needs.
Dr. Yu is joined by Co-PI Dr. Jacqueline Jenkins, an associate professor in the Department of Civil and Environmental Engineering (CEE). Their team is creating enhanced and comprehensive plow driver training that improves ODOT's truck driving simulator (a Doron Precision 660 Truckplus) by adding "plowable" snow to custom 3D maps and creating training scenarios for inexperienced drivers. 
The photo below shows a CSU PhD student testing the enhanced truck-driving simulator on the customized Ohio 3D map. Learn more about Dr. Yu's vision and AI Lab here.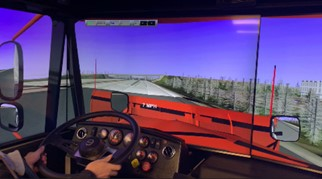 About CSU and the Washkewicz College of Engineering
​​​​​​Cleveland State University is a public institution located in Cleveland, Ohio. The university has an enrollment of more than 16,000 students in programs at the baccalaureate, masters, and doctoral levels. The university is accredited by the Higher Learning Commission and is currently awaiting reaffirmation of accreditation. Washkewicz College of Engineering offers graduate and undergraduate program. The undergraduate programs are accredited by the Accreditation Board for Engineering and Technology (ABET) (http://www.abet.org). To learn more about the College, please visit: engineering.csuohio.edu.
This article originally appeared in The @CSUResearch newsletter January 2023 issue.