Posted on May 29, 2015 at 4:39 PM, updated June 11, 2020 at 5:12 PM Print
The Fenn Co-Op Program Of The Washkewicz College Of Engineering Of Cleveland State University Receives The E. Sam Sovilla Award Of Excellence From The Ohio Cooperative Education Association.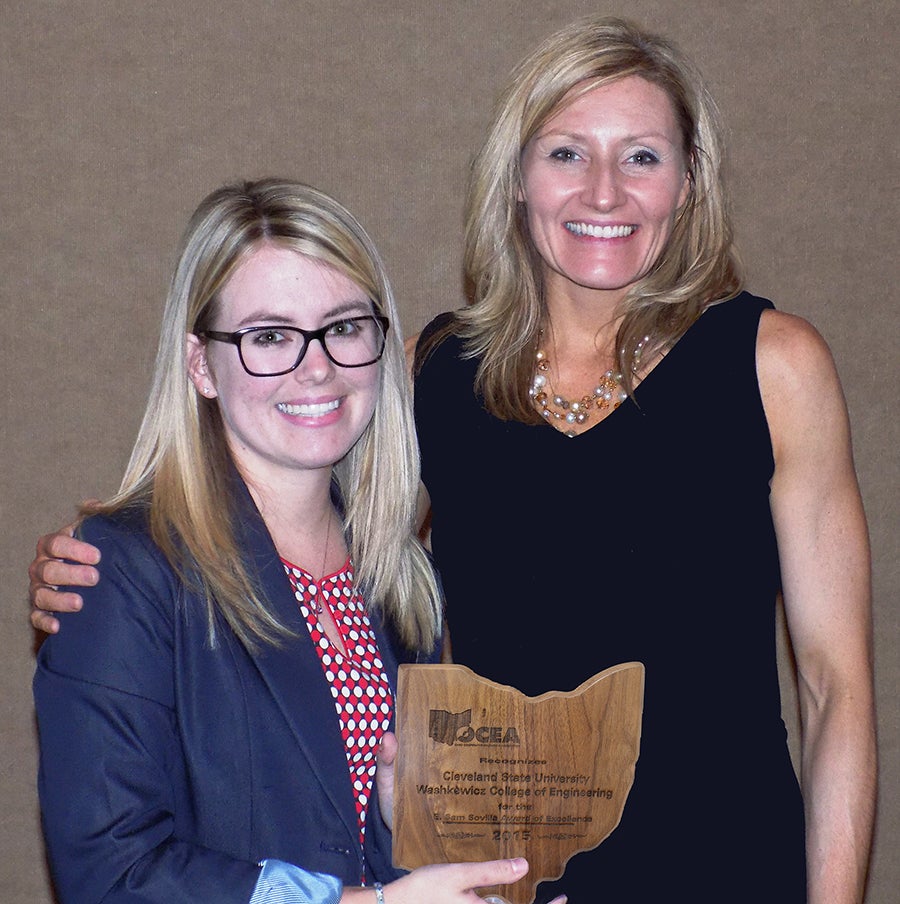 On Thursday, May 14, 2015, the Ohio Cooperative Education Association (OCEA) honored the Fenn Cooperative Education (co-op) program of the Washkewicz College of Engineering of Cleveland State University with the E. Sam Sovilla Award of Excellence. The award is the highest honor presented by the Association for educational institutions and employing organizations that maintain exceptional cooperative education and/or internship programs. Previous winners of this award include the University of Akron, Case Western Reserve University and the University of Cincinnati.
OCEA is a nonprofit professional association founded in 1971. OCEA membership is open to employers, educators, and those interested in cooperative education and internships in the State of Ohio.  
The Washkewicz College of Engineering has developed measurable objectives which include significantly increasing the number of students participating in the Fenn co-op program. Currently, over 20% of CSU's engineering students are participating in the program, with the goal being to increase this number to 50% of the engineering student population in the next five years. The College of Engineering has strong relationships with industry which provide meaningful opportunities to meet the needs of the students if the program. In addition, the Fenn co-op program offers support, guidance and faculty mentorship. Once students complete the co-op program, they are awarded a co-op scholarship. They are also encouraged to apply for external co-op scholarships during their participation in the program.
In the last couple of years, the Fenn co-op program has had a 100% increase in student participation, with an increase in the number of students of color and women. Faculty members from all Engineering departments are fully involved in the program and a peer mentoring program was created to assist current co-op students. There has been significant collaboration with industry on two high school pipeline co-op programs. A Fenn Co-Op Advisory Council was established consisting of co-op alumni, faculty and industry representatives.
Students who enter the Fenn co-op program are committed to a 5-year academic experience, during which they receive up to a full year of practical engineering experience. Most students follow the alternating work/study sequence. While on the job, students take the "Engineering Cooperative Education Experience" course to further enhance their experience. Students receive credit recorded on their transcript for their co-op semesters and a certificate of completion is awarded upon graduation.
Pictured: Danielle Vath (l), Coordinator, Cooperative Education Program with the OCEA President, Andrea Domachowski (r)