Posted on June 11, 2020 at 4:04 PM, updated June 11, 2020 at 4:42 PM Print
The American Institute for Medical and Biological Engineering (AIMBE) has announced the induction of Antonie J. van den Bogert, Ph.D., Professor and Parker-Hannifin Endowed Chair in Human Motion and Control, Department of Mechanical Engineering, Cleveland State University (CSU) to its College of Fellows. Van den Bogert joined CSU in 2012 and has served as interim chair of the Mechanical Engineering (ME) department from May 2017 until February 2019.
The Parker-Hannifin Laboratory for Human Motion and Control (HMC lab) was established in 2012.  State of the art equipment was installed to measure human motion, and to study human motion control systems by applying mechanical perturbations while standing and walking.  Research topics are fundamentals of estimation and control of human motion, prosthetic design and amputee gait, exercise machines, and powered exoskeletons. The lab (pictured below), which moved to Washkewicz Hall March 2020, currently has three Ph.D. students majoring in Applied Biomedical Engineering, Electrical Engineering, and Mechanical Engineering. It also has three Master's of Science in Mechanical Engineering students.
​​​​​​​​​​​​​​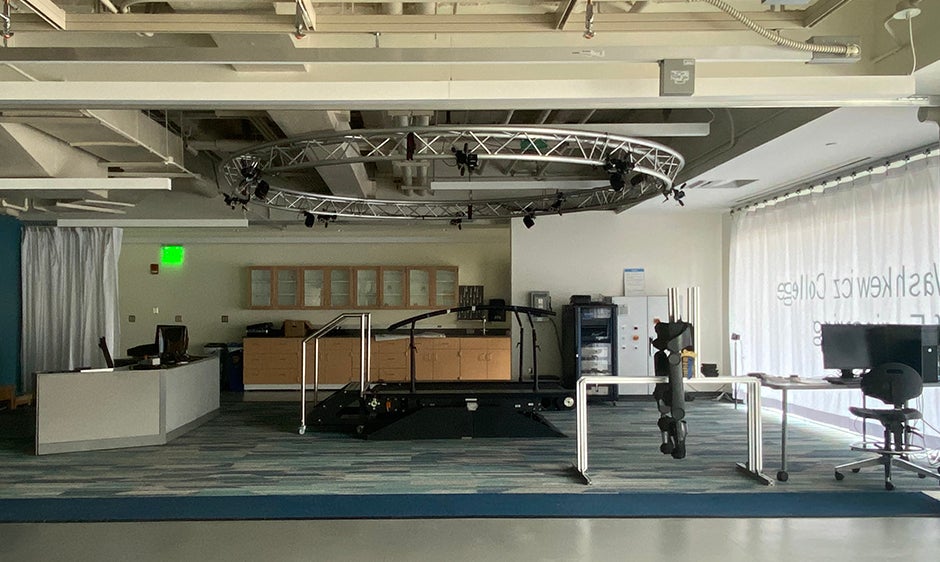 ​​​​​​​
​​​​​​​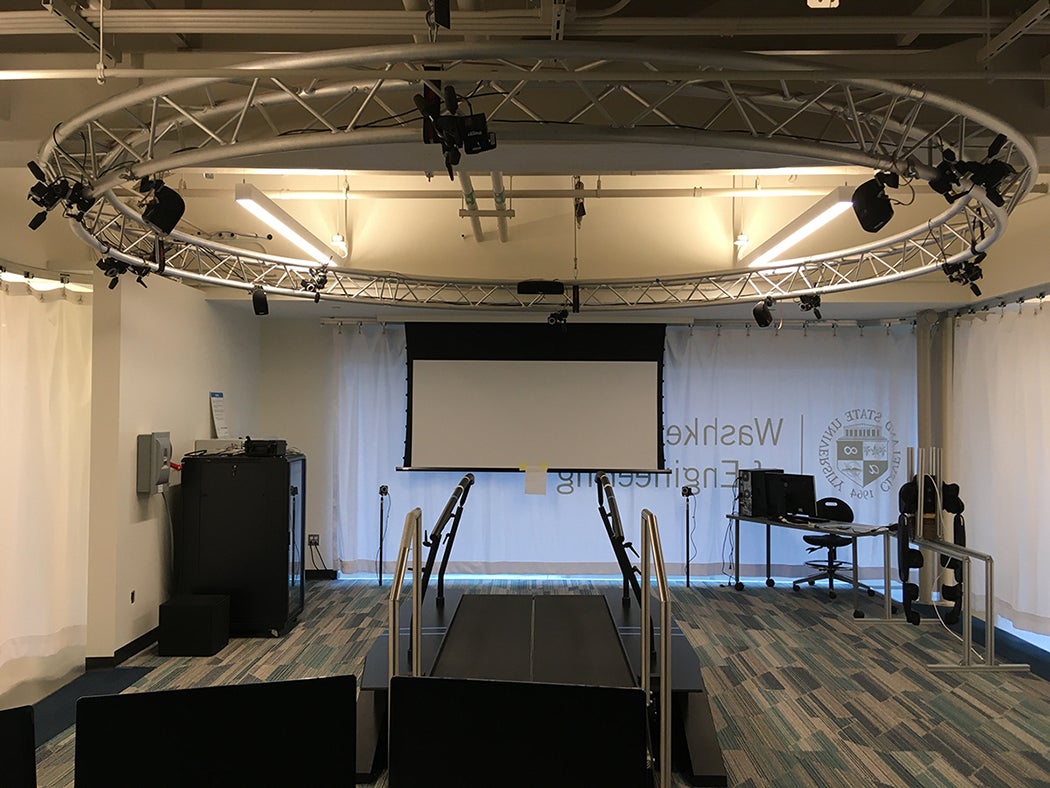 ​​​​​​​
Election to the AIMBE College of Fellows is among the highest professional distinctions accorded to a medical and biological engineer. The College of Fellows is comprised of the top two percent of medical and biological engineers. College membership honors those who have made outstanding contributions to "engineering and medicine research, practice, or education" and to "the pioneering of new and developing fields of technology, making major advancements in traditional fields of medical and biological engineering, or developing/implementing innovative approaches to bioengineering education."
Dr. van den Bogert was nominated, reviewed, and elected by peers and members of the College of Fellows for "outstanding contributions to computational musculoskeletal modeling and its clinical applications in human movement." His work has been influential in simulation-based design in sports and rehabilitation, and more recently to perform optimal estimation and system identification based on data from human experiments.
Like many major events, AIMBE's annual meeting and induction ceremony scheduled for March 29-30, 2020, was cancelled. Under special procedures, Dr. van den Bogert was remotely inducted along with 156 colleagues who make up the AIMBE College of Fellows Class of 2020.
AIMBE Fellows are among the most distinguished medical and biological engineers including three Nobel Prize laureates, 18 Fellows having received the Presidential Medal of Science and/or Technology and Innovation, and 173 also inducted to the National Academy of Engineering, 84 inducted to the National Academy of Medicine and 37 inducted to the National Academy of Sciences.
About AIMBE
AIMBE is the authoritative voice and advocate for the value of medical and biological engineering to society. AIMBE's mission is to recognize excellence, advance the public understanding, and accelerate medical and biological innovation. No other organization can bring together academic, industry, government, and scientific societies to form a highly influential community advancing medical and biological engineering. AIMBE's mission drives advocacy initiatives into action on Capitol Hill and beyond. For more information about the AIMBE, please visit www.aimbe.org.
To learn more about the Washkewicz College of Engineering please visit their website, or Dr. van den Bogert here.