Eric Schearer

Dr. Schearer is an Associate Professor in Mechanical Engineering and Director of the Center for Human-Machine Sysetms.  As a member of the Cleveland Functional Electrical Stimulation Center he works to bring robotic intelligence to neuroprosthetic devices to reanimate the arms of people with spinal cord injuries. Prior to his academic career, Eric was an engineering consultant with Exponent, Inc. where he investigated failures of engineering systems ranging from amusement park rides to eyelash curlers.  He also served as an officer in the U.S. Air Force working as a computational design and analysis engineer.
Ph.D., Mechanical Engineering, Northwestern University, 2014
M.S., Robotics, Carnegie Mellon University, 2006
M.B.A., Business Administration, University of Notre Dame, 2002
B.S., Mechanical Engineering, University of Notre Dame, 2002
Faculty Profile
Debbie Espy

Dr. Espy's clinical background includes acute care, inpatient and outpatient neuro-rehabilitation, assistive technology, and geriatrics.  Her research interests are in the areas of motor learning, postural control, balance training, fall prevention, exercise dosage, therapeutic aspects of video gaming and virtual reality, and the use of sensor technologies to provide exercise and motor learning feedback.
Ph.D., Movement Science, University of Illinois at Chicago, 2010
M.S., Physical Therapy, Medical College of Virginia/Virginia Commonwealth University, 1992
B.A., Biology/Pre-Physical Therapy, College of Wooster, 1989
Faculty Profile
Ann Reinthal

Dr. Reinthal, PT, PhD, NCS has a PhD in neuroscience and practiced physical therapy in a variety of settings before taking a faculty position at Cleveland State University in 1997, where she is currently an Associate Professor.  Her research interests are in the areas of motor control and learning, especially as these relate to developing clinical methods to facilitate more effective and cost-efficient motor practice.  She is especially interested in integrating the use of technology into rehabilitation for neurologically impaired populations. She has done previous work using various commercial video gaming technologies to improve upper extremity function as well as balance.
Ph.D., Neuroscience, Kent State University, 2006
M.A., Motor Behavior, Kent State University, 1987
Certificate, Physical Therapy, Northwestern University, 1978
B.A., Psychobiology, Oberlin College, 1977
Faculty Profile
Hanz Richter

Dr. Richter obtained both his doctorate and master's degrees in Mechanical Engineering from Oklahoma State University in 2001 and 1997, respectively. His undergraduate degree is also in Mechanical Engineering, obtained in 1994 from the Pontificia Universidad Católica del Perú in Lima. Prior to joining CSU, he spent two and a half years at the NASA John C. Stennis Space Center as a National Research Council Research Associate. There, he investigated the application of modern control theories to the automation of rocket test stands. Dr. Richter's research interests include: applied nonlinear control, mathematical control theory, modeling and simulation of dynamic systems, ultra-precise motion control and mechatronics, and control of thermofluid systems for aerospace applications.
Ph.D., Mechanical Engineering, Oklahoma State University, 2001
M.S., Mechanical Engineering, Oklahoma State University, 1997
B.S., Mechanical Engineering, Catholic University of Peru, 1994
Faculty Profile
Ton van den Bogert

Dr. van den Bogert currently holds the Parker-Hannifin Endowed Chair in Human Motion and Control in the Department of Mechanical Engineering at Cleveland State University.  He has previously been on the faculty at the University of Calgary (1993-1998) and the Cleveland Clinic (1998-2010).  His academic degrees are from the University of Utrecht (Netherlands), including a BS/MS degree in Physics and Applied Mathematics, and a PhD degree in Veterinary Science for work on locomotion in horses.  For most of his career, Ton has worked on computational modeling of human movement and computer-aided movement analysis, with applications in rehabilitation, sports, and animation. His work has been supported by numerous federal grants and by contracts with industry. Ton has served as President of the International Society of Biomechanics and also well known as the moderator of Biomch-L, an online discussion forum on human and animal movement science.  He has published over 130 journal articles and book chapters, and sits on the editorial boards of three scientific journals. Notable awards are the Sports Injury Research Award of the American Orthopaedic Society for Sports Medicine (2004), and a Technical Achievement Award from the Academy of Motion Picture Arts and Sciences in 2005.  Current research interests are (1) control of powered prosthetic and orthotic devices, and (2) predicting the effect of sports equipment and rehabilitative devices on human movement and performance.
M.S., Physics, University of Utrecht, 1985
Ph.D., Biomechanics, University of Utrecht, 1989
Faculty Profile
Brian Davis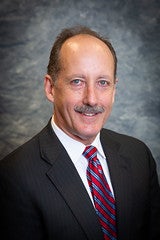 Brian L. Davis, Ph.D. is the Interim Associate Dean of the College of Engineering at Cleveland State University. Prior to joining CSU, he was a Professor of Biomedical Engineering at The University of Akron, serving as Chair from 2012 to 2018. In addition, he was formerly Vice Chair of the Department of Biomedical Engineering at The Cleveland Clinic Foundation, and Director of the Medical Device Solutions team. He played a key role in developing a partnership between the Cleveland Clinic and Parker Hannifin Corporation. Similarly, he served as co-Director of the joint Cleveland Clinic/CSU program in Applied Biomedical Engineering. In terms of medical devices, Davis has led a number of initiatives focused on rehabilitation technology and instrumentation for assessing a patient's risk for diabetic foot ulceration. More recently he has received funding from the National Science Foundation for initiatives related to STEM outreach to under-represented students.
Prabaha Sikder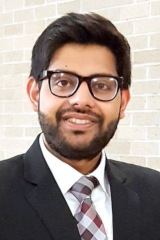 Prabaha Sikder is an Assistant Professor in the Department of Mechanical Engineering and a faculty at the Center for Human-Machine Systems. His research focusses on the development of state-of-the-art technologies, especially biomaterials for tissue regeneration. He develops medical implants and scaffolds which aims to treat orthopedic and musculoskeletal defects. Some of the solutions developed by him include antibacterial coatings, biodegradable bone-grafting materials, and 3-D printed bioactive polymer-ceramic scaffolds.
Prior to joining CSU, Prabaha was working in the department of physical medicine and rehabilitation at the University of Pittsburgh, School of Medicine. He was working in a NIH funded project which aimed to develop 3-d printed electroactive materials for efficient tissue regeneration in volumetric muscle loss defect. As a grad student, he was the very first cohort at the University of Toledo (UT) to win `Non-Academic Research Internships for Graduate Students (INTERN) research grant from the National Science Foundation. In 2018 he was also the first one from the college of engineering to receive the highest ranked recognition in UT- `Outstanding Scholarly Achievements for outstanding contributions in the college's academic legacy, inventions, and publications and the `Translational Research Award for remarkable contribution in the field of research for improving the human condition locally and globally through translational & applied research.