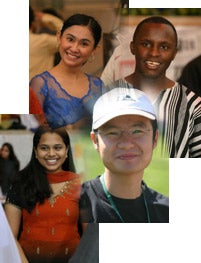 CSU's Center for International Services and Programs
Cleveland Living
With a population of 390,113 (2013) Cleveland is America's 48th largest city and second largest city in Ohio. The city is the heart of a bustling metropolitan area of 2.1 million inhabitants (2013).
Located 575 (920 km) miles west of New York City and 340 (540 km) miles east of Chicago, Cleveland sits on the shores of Lake Erie, one of the city's major sources of beauty and commerce,complete with miles of beaches and port facilities.
The city of Cleveland boasts many cultural institutions, an extensive park system, professional sports teams, and leading medical centers.It is also home to many large multinational companies.
The City of Cleveland is a welcoming place for international students. The city is home to a large number of immigrants from a variety of nationalities and ethnic groups. The Latino population in the Cleveland area numbers around 47,000 with several community organizations (for example, Esperanza). Religious facilities are available for nearly every faith, including mosques, Hindu temples, Buddhist temples, synagogues, and Christian churches. A sampling of the thousands of religious institutions include the Islamic Center of Cleveland, Cleveland Buddhist Temple, Park Synagogue, St. John's Cathedral, and Christian churches for a variety of cultural traditions (St. Mark Coptic Orthodox Cathedral, Cleveland Chinese Church, to name but two). Foods from around the world can be found year-round at the bustling West Side Market, located just west of downtown, as well as in neighborhood grocery stores. This metropolis hosts a variety of ethnic-based festivals and cultural events throughout the year. On campus, from our wide variety of student organizations, you are sure to find a group that shares your interests and social activities. Specifically, international students comprise 10% of the student population in the Washkewicz College of Engineering.
Cleveland State's 82-acre campus, which is located downtown and convenient to public transportation, makes the whole city of Cleveland easily accessible.
Our dynamic, vibrant campus features a blend of old and new architectural styles, from a historic mansion to several recently completed, state-of-the-art facilities, including a new Student Center, Recreation Center, Residence Halls, and a new a Center for Innovation in Health Professions building is currently under construction.  The Washkewicz College of Engineering will also be going through some major renovations within the coming year.
Co-op Program
The Engineering College has a dynamic co-operative education program, in which students alternate semesters of full-time work with full-time study. This allows the student to graduate with one full year of work experience. International students are encouraged to participate in this program with the same ferver as their classmates.
Cultural Attractions
The Cleveland Museum of Art and the Cleveland Orchestra at Severance Hall are just a few miles east of the Cleveland State campus. The Playhouse Square district, featuring Broadway productions, the ballet and concerts by top-name performers, is adjacent to the campus. Cleveland State is just one-half mile (0.8 km) from the heart of downtown Cleveland, with its many restaurants and specialty shops.
Sporting Events
Cleveland is host to a multitude of professional sports teams, including the Cavaliers (basketball), the Indians (baseball) and the Browns (football). Cleveland State's 16 intercollegiate sports teams include (for men) soccer, basketball, wrestling, swimming, fencing, baseball, tennis, and golf , and (for women) basketball, volleyball, fencing, softball, tennis, swimming, cross country, track and golf.
Cleveland Climate
The Cleveland, Ohio area has four distinct seasons - winter, spring, summer and fall. The average January temperature is 28.5 Fahrenheit (-1.9 Celsius) and the average July temperature is 74 Fahrenheit (23.17 Celsius). Average annual rainfall is 32 inches (81.28 cm); average annual snowfall is 40 inches (101.6 cm). Students should pack clothing appropriate for a full range of weather conditions -- cold winter, hot summer, and a mild fall and spring.
For additional information check: