Engineering Education Summer Conference Recap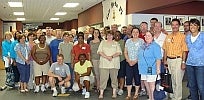 This June, teachers from across Ohio spent three days designing, building, and exploring hands-on engineering activities for their high school and middle grade classrooms. As part of the second annual Engineering Education Summer Conference (EESC), these activities - accompanied by lectures, instruction, and networking - encouraged thirty-four educators and five teacher presenters to infuse their classrooms with hands-on pre-engineering lessons. Overall, the conference sought to increase student interest in science, technology, engineering, and mathematics (STEM) - especially engineering - in grades 4-12 through their teachers.
The Transportation Center's most successful outreach programs to date, the second annual EESC brought together K-12 educators, university faculty, and industry professionals for a critical conversation about implementing/improving engineering education in the K-12 curriculum. Maintaining this conversation remains vital - as Center Director Duffy believes - because tomorrow's potential transportation professionals often lose interest in critical science and math courses before their university careers even begin. (Read more from article)
Professor Debbie Jackson joins Center Staff as Associate Director for Education & Training

Dr. Debbie K. Jackson, Assistant Professor of Teacher Education in the CSU College of Education and Human Services, joins the Center as an Associate Director for Education & Training. Already a valued partner of the Center and the Engineering College due to previous efforts on grant proposals and strategic outreach programs with the Center, Dr. Jackson now contributes a portion of her time directly to Center initiatives.
Dr. Jackson holds a Bachelors of Science in Education from Bowling Green State University and a Doctorate of Education from the University of Cincinnati. At Cincinnati she worked on a successful NSF GK-12 program focused on bringing STEM graduate students into K-12 classrooms. Prior to working at the university level, Dr. Jackson taught chemistry, physics, and physical science. (Read more from article)