Undergraduate Engineering Academic Advising - FAQs
---

Engineering freshmen receive academic advising for first and second-semester course registration through participation in the University Freshmen Orientation Program. This is a mandatory program for all freshmen. Visit the website below for details:
https://www.csuohio.edu/orientation/orientation

All first-year students will be assigned a first-year advisor and will be transitioned to the College of Engineering once the requisite course work is complete or they have reached 30 credit hours earned.
Initial academic advising appointments for transfer students are conducted in the Engineering Dean's Office.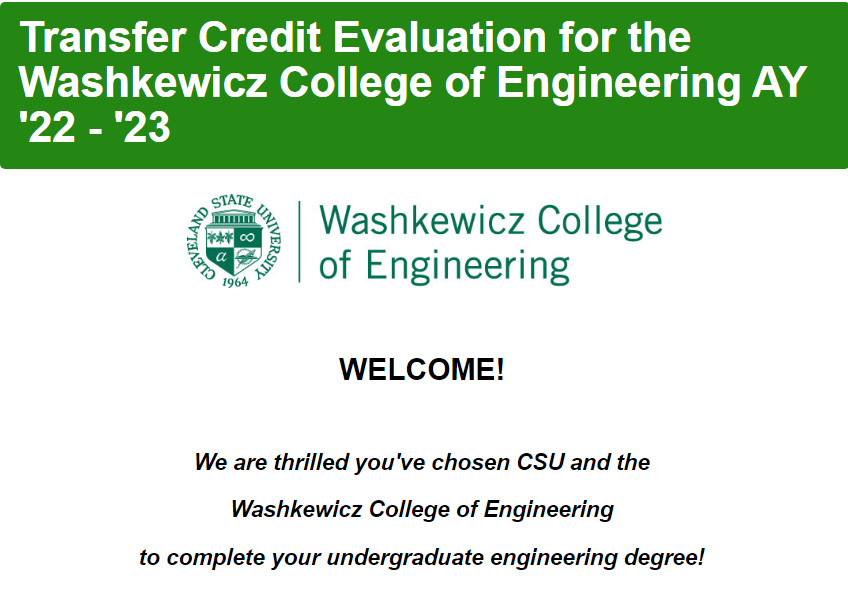 Transfer Credit Evaluation:
During an academic advising appointment, new transfer students will receive a transfer credit evaluation.
Students should make sure to have their previous college transcripts evaluated by Cleveland State University before meeting with an advisor. 
These courses will be evaluated by the respective instructors using an Engineering Transfer Credit Evaluation Form. To make this process go as quick as possible please submit the Transfer Credit Evaluation form before your meeting. 
Course Registration:
Upon completion of a transfer credit evaluation, students are advised and registered for their first semester courses.
Transfer students are also invited to register for the CSU Transfer Orientation Program. Visit the website below for details:
http://www.csuohio.edu/enrollmentservices/orientation/
---

In order for Cleveland State to award the credit, student must have their scores sent to the University Registrar.
Please follow this link to see the list of credit awarded for Advancement Placement, International Baccalaureate (IB), or College Level Examination Program (CLEP). 
---

It is always a good idea to check with your sponsoring agency to make sure you are following their guidelines to continue to receive funding. For example, you may be restricted to the number of online courses you may take, per United States immigration regulations or degree certification rules in your home country.
Please follow this link if you need a letter from your sponsor for any of the following issues: degree progress, scholarship extension, and online course permission.
---

As there are several parts of the process in an academic misconduct case, please consult the separate web sections.
Follow this link to learn about Academic Misconduct.