Dr Tushar Borkar Receives US Air Force Research Grant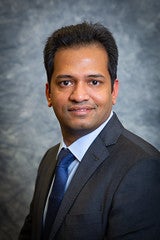 Dr. Tushar Borkar, an assistant professor in the Department of Mechanical Engineering, has been awarded funding by the United States Air Force Office of Scientific Research (AFOSR) to perform fundamental research on advanced materials.
The two-year project, titled "Fundamentals of Strengthening Mechanisms in Carbon Nanotube (CNT)/ Graphene Nanoplatelet (GNP) Reinforced Metal Matrix Composites for Aerospace Structural Applications," has been funded for $159,906. CNT/GNP-metal nanocomposites have potentially attractive properties, such as high tensile strength, stiffness, excellent wear and corrosion resistance, which make them potential candidates for high-performance aerospace structural applications.