Congratulations to the teams of the Fluid Powered Vehicle Challenge and the External O-Ring Assembly Tool projects for placing 1st and 2nd in the college-wide Senior Design Competition! See the results for the 2022 Washkewicz Senior Design Symposium. 
Mechanical Engineering Senior Capstone Design 
The Senior Design Capstone Course is the culmination of students' engineering education in Mechanical Engineering at Cleveland State University. The two-semester course gives students the opportunity to incorporate engineering principles learned throughout their academic careers into one final project. Students, with the guidance of a faculty advisor and company liaison, work in teams of 3 to 4 to develop solutions to a wide variety of engineering problems. The majority of the projects are real-world problems provided by corporate sponsors. Teams are required to develop a comprehensive project plan with a problem description, design alternatives, budget, equipment requirements, time schedule, final design, and in most cases, a prototype. Finally, selected teams will present posters outlining their work at the annual Senior Design Symposium and Awards Dinner, where the top 3 projects for the college are selected. 
2022 MCE Senior Capstone Design Projects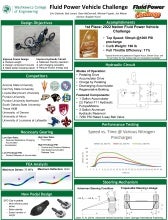 First Place
Project Title: Fluid Power Vehicle Challenge
Team Members: Eric Zielinski, Robert Lenart, Sean McDermott, Michael Fugate, Jon Mieyal
Faculty Advisor: Bogdan Kozul
Industry Sponsor: National Fluid Power Association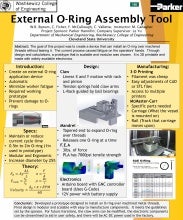 Second Place (Tie)
Project Title: External O-Ring Assembly Tool
Team Members: William Bynum, Casey Fisher, Francis McCullough, Carlo Valletta
Faculty Advisor: Michael Gallagher
Industry Sponsor and Mentor: Parker Hannifin, Le Yu (Parker Hannifin)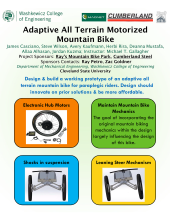 Project Title: Adaptive All Terrain Motorized Mountain Bike
Team Members: James Casciano, Steve Wilson, Avery Kaufmann, Herbi Rira, Deanna Mustafa, Allaa Alhasan, Jordan Kuzma
Faculty Advisor: Michael Gallagher
Industry Sponsors and Mentors: Ray's Mountain Bike Park, Cumberland Steel, Ray Petro (Ray's Mountain Bike Park), Zac Goldner (Cumberland Steel)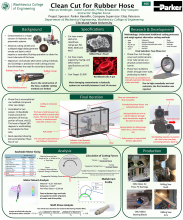 Project Title: Clean Cut for Rubber Hose
Team Members: Marcus Wittlinger, Daniel Lamosek, Philip Broadwater, Eloy Vazquez
Faculty Advisor: Bogdan Kozul
Industry Sponsor and Mentor: Parker Hannifin, Elias Peterson (Parker Hannifin)
---
Past MCE Senior Capstone Projects | Cleveland State University