Cleveland State University (CSU) offers a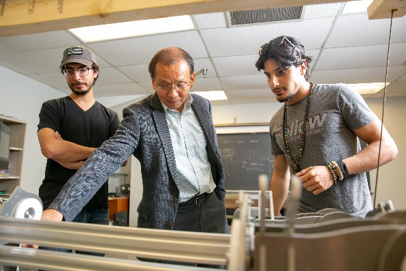 proven track record of expertise in advanced control, robotics control, and automation in partnership with Center for Human-Machine Systems (CHMS) and Center for Advanced Control Technologies (CACT). CSU researchers partner and collaborate with government and private industry to develop and deliver innovative engineering solutions in controls, robotics, and automation field.
RESEARCH CAPABILITIES
We create, design and develop innovative control systems:
Active disturbance rejection control (ADRC)-based

advanced control

Theoretical development and real-time implementation of control and signal processing algorithms

Development of MEMS nanotechnology and sensor design

Power system control and optimization, electricity market, and cyber-physical security in smart grid

3D printed electronics with two Aerosol Jet 200 (Optomec) for low volume prototype components

and systems

Industrial IoT Testbed with Rockwell Automation's state-of-the-art work stations along with PLC

(Programmable Logic Controllers) and a connected and secured

systems model

One Baxter (Rethink Robotics) and three Beam Telepresence Robots

Develop intellectual property available for licensing to private sector
CURRENT PARTNERS AND SUPPORTERS
Center for Human-Machine Systems (CHMS) & Center for Advanced

Control Technologies (CACT)

CSU Faculty: Dr. Lili Dong, Dr. Zhiqiang Gao, Dr. Dan Simon, and Dr. Hongxing Ye

CSU Research Laboratories: Embedded Control Systems Research

Laboratory, Micro-Electromechanical System (MEMS) Research

Laboratory, Power and Energy System Laboratory

Sponsors & Supporters - US National Science Foundation (NSF),

Cleveland Foundation, Cleveland Clinic, and

Midcontinent

Independent System Operator (MISO),

Ford Motor Company, PPG,

P&G, LineStream, Danfoss, Rockwell,

Samsung, and Parker Hannifin
GROUP'S HISTORY, NEWS AND AWARDS
The patented technology called active disturbance rejection control

(ADRC), commercialized by the CSU spinoff company, LineStream, founded in 2008 and acquired by

Danfoss in 2018 (Gao)

Significant industry donation for energy savings in server farms, thermal power plants, extrusion

processes, motion controls and more for companies such as P&G, PPG and Samsung (Gao)

This group's research has recently been selected to be featured on the Ohio Innovation Exchange

(Gao)

Two research grants from Ford Motor Company for the projects entitled "Ridesharing Optimization

with Real-Time Multi-Objective Swarm Intelligence." (Simon)

The research group is collaborating with Parker Hannifin and Cleveland Clinic to develop a pediatric

exoskeleton, which could provide much-needed therapy and restored walking ability for children

with cerebral palsy. (Simon)

National Science Foundation supports the project "Transactive Uncertainty and Flexibility for High

Penetration of Semi-dispatchable Renewables in Electricity Markets." (Ye)

Midcontinent Independent System Operator (MISO), the geographically largest power grid in the

U.S., supports the project "Data-driven Approach to Building Watchlist of Security Constraints." (Ye)
CURRICULUM AND COURSES
Students enrolled in the PhD and MSEE degree program (Masters of Science in Electrical Engineering) are offered the following advanced courses (600-level or above) that are relevant tothis group's research. It is strongly recommended to take thesis option for MSEE students, which requires completion of 16 credit hours of courses in an area of specialization, 8 credit hours of elective courses, and 6 credit hours of thesis.
EEC 640

Adv

Control

System Design

EEC 642 System Identification

EEC 643/ESC 794 Nonlinear Systems

EEC 644 Optimal

Control

Systems

EEC 645 Intelligent

Control

Systems

EEC 646 Dynamics &

Control

of MEM

S

EEC 670 Power System Operations

EEC 671 Power System Control

EEC 673 Power Electronics and Machines

EEC 693

Optimal State Estimation

EEC 693 Robot Dynamics &

Control

EEC 693 Evolutionary Optimization

Algorithms

EEC 693 Power System Planning

EEC 693 Microgrid Design and Operation