For more EECS news, check out our semesterly newsletters
---
Dr. Yao Awarded Commercialization Funding
Rapidect, Inc., a CSU start-up company created by Dr. Yau has been awarded CSU's second Technology Validation and Start-up Fund (TVSF) Phase 2 grant from the Ohio Development Service Agency (ODSA) in the amount of $150,000. Dr. Yau, a professor in the Department of Electrical Engineering and Computer Science (EECS), received a Phase 1 TVSF award in 2018 via the TeCK Fund, a joint technology commercialization and startup fund co-managed by Cleveland State University and Kent State University.
The Phase 2 award will further Dr. Yau's efforts to achieve market entry of the Rapidect Analyzer in 2022. Rapidect will use the ODSA award to develop a robust prototype to enable the manufacture of a minimally viable product. In addition, funds will be used to purchase key equipment.
---
IEEE WIE Matlab/Simulink Tutorial Workshop
An IEEE WIE Matlab/Simulink workshop was successfully held in FH125 from 1:00 to 2:15pm on Oct. 1, 2021. The workshop was also streamlined via Zoom. WIE president Grace Quaintance and Vice President Anusree Mandali hosted the workshop.  Mr. Yu Hu, a doctoral student in EE, provided a comprehensive introduction to MATLAB and Simulink programming. There were about 87 attendees including CSU faculty, students, and local industrial engineers. The Workshop was well received by audiences both in person and via Zoom. The faculty adviser of WIE Dr. Lili Dong helped to promote and advertise the event.
---
IEEE WIE Matlab/Simulink Tutorial Workshop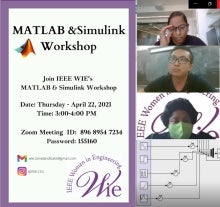 The IEEE Women-in-Engineering student officers organized a Matlab/Simulink workshop via Zoom on April 22, Thursday from 3:00 to 4:00pm. The purpose of this workshop was to provide entry-level introduction to the use of Matlab/Simulink.  Mr. Yu Hu, a doctoral student in EECS department, presented the Matlab/Simulink tutorial to about 20 student attendees. A certificate of appreciation, prepared by faculty advisor Dr. Lili Dong and the president of WIE Ms. Grace Quaintance, was given to Mr. Yu Hu to recognize his dedication to student training and success.
---
HKN Virtual Induction Ceremony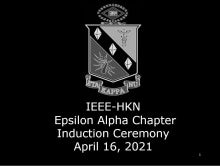 On April 16, 2021, HKN student officers and faculty advisor successfully inducted 17 new members for the Epsilon Alpha chapter of HKN at CSU. For the first time in the history of EECS department, the induction ceremony was held virtually via Zoom. The inductees and their family and friends attended the virtual event. The ceremony would not be possible without the dedication and hard work of the student officers (Aaron Teeters, Anusree Mandali, Shubo Zhang and Yu Hu) and supporting staff members (Lydia I Demjanczuk and Patricia Drake). 
---
Soft Robotics Seminar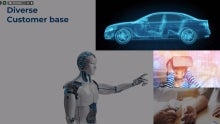 On Mar. 12, 2021, Eta Kappa Nu (HKN) honor society, IEEE-Women-in-Engineering student organization, and IEEE Control Systems Society (Cleveland Chapter) jointly organized a webinar via Zoom. Dr. Lili Dong invited Dr. Timothy Morrissey, the CEO for Artimus Robotics Inc., to give a presentation "Artimus Robotics: Commercializing Soft Robotics Actuators" in the webinar. In the presentation, Dr. Morrissey discussed about the motivation for soft robotics; origins of Artimus Robotics breakthrough technology, HASEL artificial muscles; fundamentals of HASEL action technology; technical challenges in commercializing a bleeding-edge technology; and outlook for the soft robotic future. The seminar was well received by about 60 attendees including the faculty members and students from CSU, Case Western Reserve University, and University of Akron, and local industrial engineers. The event would not be successful without the contributions of HKN and WIE officers (Aaron Teeters, Anusree Mandali, Shubo Zhang, Yu Hu, Grace Quaintance, and Diana Valle).