Posted on August 3, 2023 at 4:15 PM, updated August 21, 2023 at 10:44 AM Print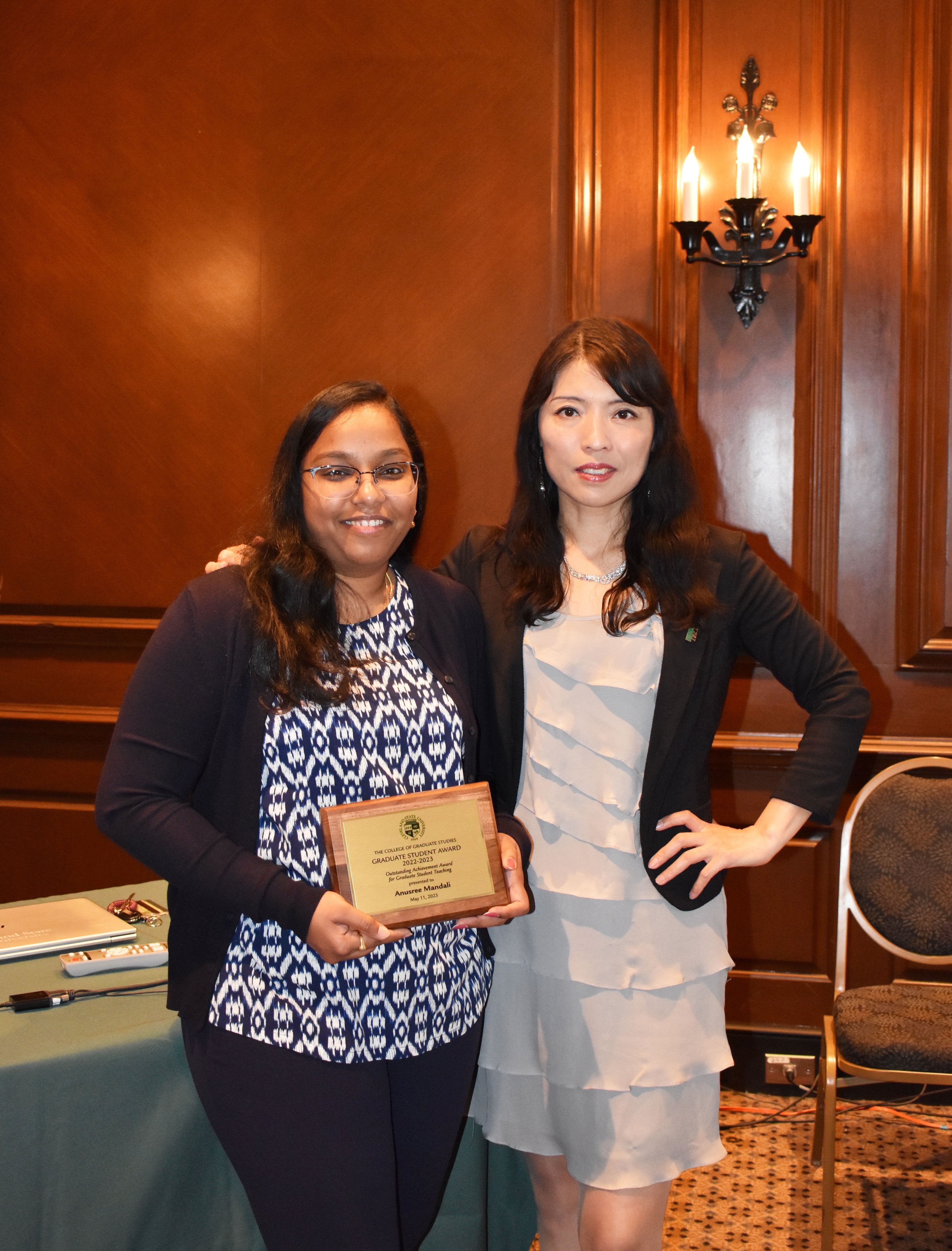 Anusree Mandali, having earned a Ph.D. in Electrical Engineering, was recently awarded the graduate student Teaching Award from the College of Graduate Studies. "Anusree would adjust her teaching strategy based on student's feedback. She has had substantial interactions with her students in and out of classes. She provides an effective learning environment and proficiently guides students to apply theories to practice in the lab experiments. Anusree genuinely cares about her students and wants them to be successful. As a result, Anusree received very positive feedback from her students. Students commented on her as "the best instructor," "really informative," "knowledgeable, patient," "well prepared and very helpful." Anusree's average Instructor Overall Evaluation score is 4.53 which is significantly higher than the college average of 4.07. Said Professor Lili Dong, Electrical and Computer Engineering Department, and Anusree's dissertation advisor.
More About Anusree
"I started my master's in electrical engineering at CSU in Fall 2015. Active research in controls made me chose CSU. Fun part is my I20 got lost in the mail and I finally received a new I20 just a couple of days before my travel date to Cleveland. If I think back now it looks like I was destined to be here at CSU. 
"Initially I planned to do only MS and find an industrial job but after I came to CSU, I decided to pursue Ph.D. under Dr. Dong by the end of Fall 2015 semester.  Which changed my career path, I discovered my passion for research and teaching. 
"Moving to Cleveland and living all by myself was the only challenge I faced initially as I never stayed at any place without my parents. But Dr. Dong, Lydia, Dr. Morinec, Prasanth, and Melani treated me as their own family which made my journey here very smooth. Maybe because of that I feel Cleveland and CSU as my second hometown. There are many things I like about CSU, but among them one thing I like most is every faculty and staff recognizes student's hard work and they encourage them. And the other thing is the CSU's Police Escort facility, it gave me an extra time to study late night at school. It helped me in my late-night studies, as I was conducting my research experiments, writing articles and journal papers. As I don't have to worry about how I will reach my apartment during late hours. 
"When I started here at CSU, I used to be very shy but now I learned to be outspoken. Apart from learning technical skills I also learned and improved my soft skills. I learned how to handle tough situations both at workplace and in personal life. I learned the responsibility of a faculty. 
"I earned a Bachelor of Technology (2015) in Electronics and Communication Engineering back in India and then a Master of Science (2017) in Electrical Engineering at CSU and Ph. D (2023) in Electrical Engineering. I received an offer for visiting assistant professor at Lafayette College in Pennsylvania.
"I'm a first-generation graduate student. Although my family is back in India, I have a couple of second cousins here in US. I was engaged in 2020 and got married in 2022. My husband works in upstate New York. It was very difficult with a long-distance relationship. Staying at school till late nights studying while my husband waits for my phone call and then having very long late-night calls. Balancing both studies and personal life was challenging to me. Being in the lab and working is like a stress buster for me when I have family or personal issues. 
"The advice I give new students is - make use of all the resources we have at CSU while you are still a student and learn as much as you can because once you graduate and enter the work zone everyone expects you to know the answers to every problem.  For example, as an international student my first language is not English, so I sought the help of the writing center for most of my major writing. 
"And the one thing I noticed throughout my interview process is it's important that you convert from engineer to a sales manager and pitch for yourself during the interviews. Soft skills and confidence come in handy in the process of hiring, as no one knows how hard working and talented you are during the 30-minute interview until you reach the technical round. 
"And lastly hardworking and never giving up are the main ingredients for success as luck and talent play a very minor role." 
About CSU and the Washkewicz College of Engineering
​​​​​​Cleveland State University is a public institution located in Cleveland, Ohio. The university has an enrollment of more than 16,000 students in programs at the baccalaureate, masters, and doctoral levels. The university is accredited by the Higher Learning Commission and is currently awaiting reaffirmation of accreditation. Washkewicz College of Engineering offers graduate and undergraduate program. The undergraduate programs are accredited by the Accreditation Board for Engineering and Technology (ABET) (http://www.abet.org). This year, the College will celebrate its Centennial Anniversary. To learn more about the College, please visit: engineering.csuohio.edu.