Overview
The graduate program in chemical engineering is designed to provide students with advanced skills to apply engineering analysis and design to the solution of problems involving the production or use of chemicals.  Chemical engineers design equipment and processes for large-scale chemical manufacturing, plan and test methods of manufacturing products and treating byproducts, and supervise production. Chemical engineers also work in a variety of manufacturing industries other than chemical manufacturing, such as those producing energy, electronics, food, clothing, and paper. They also work in health care, biotechnology, and business services.  Upon completion of the MS Chemical Engineering program, students will be prepared to work in any of these fields or to continue their education at the doctoral level.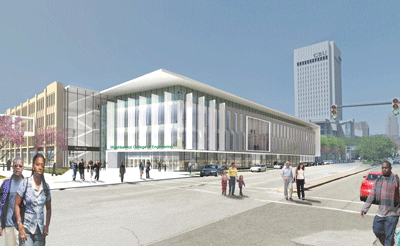 Students in the MS Chemical Engineering program at CSU benefit greatly from collaborations with corporations and institutions within the region, including NASA-Glenn, PPG, Invacare, Parker Hannifin, Lubrizol, Cleveland Clinic, and many others.  The University is located in the heart of metropolitan center with a population of 2 million.   Manufacturing is the primary economic sector in the region, and the region is home to the headquarters of eleven companies on the Fortune 500 list, including Parker Hannifin, Lubrizol, Sherwin-Williams, Ferro, Goodyear Tire and Rubber, and Lincoln Electric, all of which employ chemical engineers.   A $40 million expansion of the engineering building at CSU is currently underway, with greatly enhanced research, design, and computation labs. 
Program Description
The program provides a foundation built on fundamentals of Thermodynamics and Transport Phenomena.   The program offers three tracks: a thesis track, a design track, and a course-only track.  In-depth study of a specific research topic with a faculty mentor is conducted in the thesis track.  Students in the project or thesis track gain breadth of knowledge by taking a wider variety of courses.  The MS program can be pursued on either a full-time or part-time basis, with most courses offered during the evening.  Full-time students can complete the program in two years.  Program details are found in the graduate catalog. 
Students who have a bachelor's degree in a field other than chemical engineering are required to complete a series of undergraduate courses, called the "Preparatory Program".  See details in the graduate catalog.  
View the Graduate Course Syllabi page for all graduate courses here.
Faculty and Research
The Chemical and Biomedical Engineering Department offers a vibrant research environment, including top-notch research facilities, core technical support, regular technical seminars, and social programs.   Click here to find more about our faculty and research areas.  
If you have questions, or need additional information, please do not hesitate to contact us at:
CHE Program Coordinator
Department of Chemical and Biomedical Engineering 
1960 East 24th Street, 455 Fenn Hall 
Cleveland, OH 44115
Phone: (216) 687-2569, FAX: (216) 687-9220 
E-mail: che@csuohio.edu
Do you want to learn more about Chemical Engineering? Visit the American Institute of Chemical Engineers (AIChE).