Fall 2020 Engineering & Computer Science Connections Fair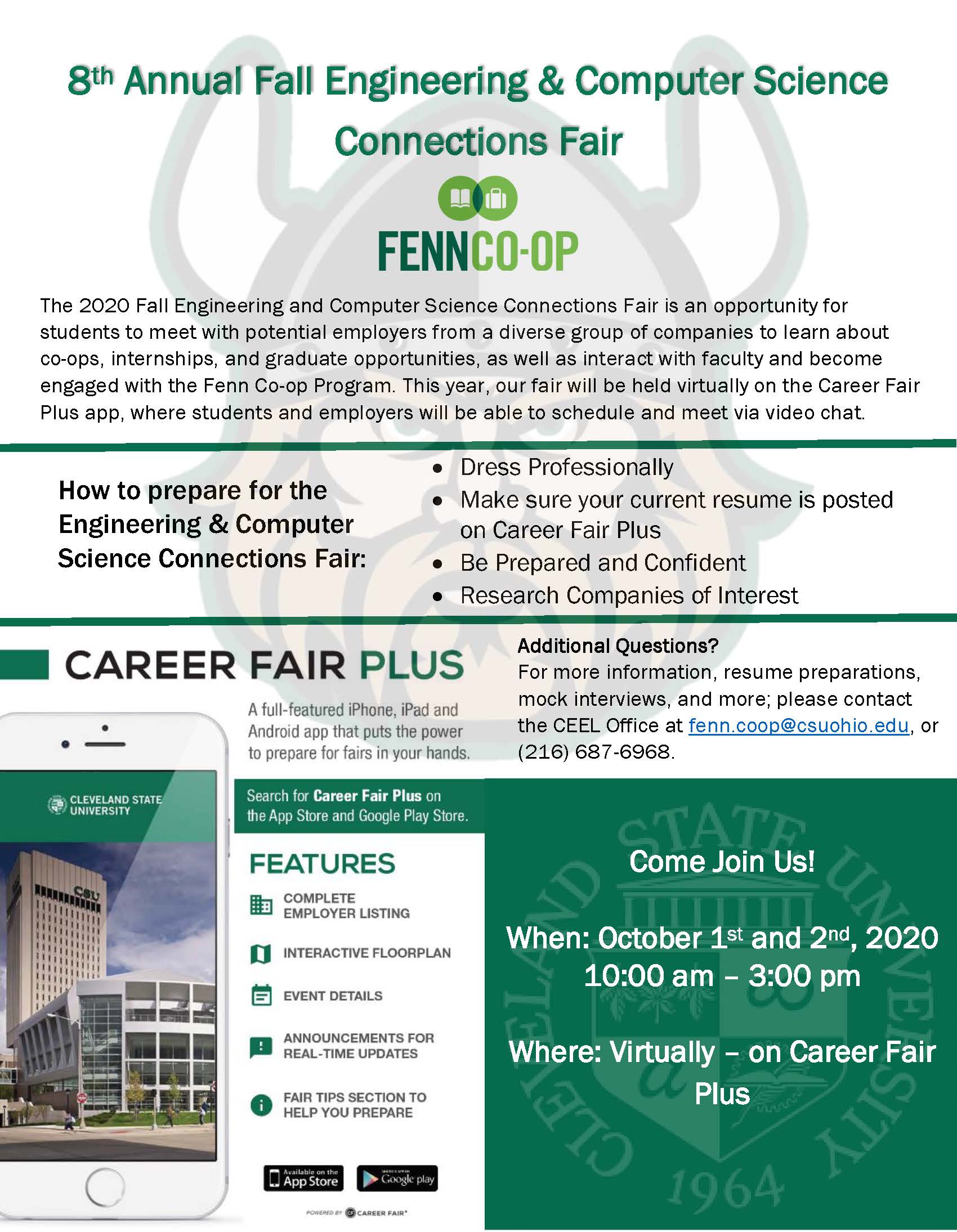 Get ready for the Connections Fair Monday September 28, 2020 from 10am - 2pm. We will discuss what questions to ask, how to sign up to meet with employers, and many more topics to ensure your time at the Connections Fair will be successful. This is a virtual 'walk-in' event, so stop in anytime during 10am and 2pm. Visit:  https://csuohio.zoom.us/j/98215427626 or click button below.
Our Annual Engineering and Computer Science Connections Fair will be on Thursday, October 1 and Friday, October 2 from 10-3 p.m. virtually.  Students can go to app store and find Career Fair Plus and access our fair under Cleveland State University or use this link https://app.careerfairplus.com/csu_oh
Spring 2020

Students click here for additional information.
Fall 2019
The Center for Engineering Experiential Learning, Washkewicz College of Engineering invites you to register for our 7th Annual Engineering and Computer Science Connections Fair on Friday, September 27, 2019! The Engineering and Computer Science Connections Fair is a great opportunity for employers to consider candidates for co-ops, internships, and permanent opportunities while interacting with faculty and staff at the Washkewicz College of Engineering. Register here!
The registration fee for the Engineering and Computer Science Connections Fair is $375.00 and includes one table (3ft. by 6ft.), two chairs, lunch, and parking validation. Access to electricity and wireless internet will be available. Interested in attending both the Fall AND the Spring Engineering and Computer Science Connections Fairs? Register for both fairs today for $700 (save $50)! See registration link for details.
Space is limited. Please register by Friday, August 9, to secure your attendance. Your registration will be confirmed upon receipt of your payment. If you have any questions regarding the event, please contact CEEL Office at Fenn.coop@csuohio.edu or 216-687-6968.