In partnership with the Cleveland Clinic Foundation
Full assistantships (tuition and stipend) are available.  All areas of interest in biomedical engineering are welcome.  Apply by March 5th for full consideration for fall semester.
Overview
The Doctoral Program in Applied Biomedical Engineering (ABE) is a collaborative  program between the Washkewicz College of Engineering of CSU and the Department of Biomedical Engineering of the world-renowned Cleveland Clinic.   The ABE program is a specialization within the college-wide Doctor of Philosophy in Engineering program.
Cleveland State University is a comprehensive University with particular strength and emphasis on applied research. The Washkewicz College of Engineering at CSU, with over 90 years of history, is well-known for hands-on education. The College has top-quality faculty who excel in research and education.  The Cleveland Clinic is one of the top medical centers internationally, with world-famous researchers in a great variety of clinical fields. The mission of the Biomedical Engineering Department at the Cleveland Clinic is to conduct top-quality research, specifically toward the development of innovative diagnostic technologies and new therapeutic approaches to diseases that ensure better quality of life of the patients. 
Classes are taken on the CSU campus, and the research is performed either on the ever-expanding Cleveland Clinic campus (a short, 3 mile bus ride from CSU on the Healthline) or on the CSU campus. The first phase of a $40 million expansion of the engineering building at CSU has been completed, with greatly enhanced research, design, and computation labs.



CSU's $40 Million Engineering Building Expansion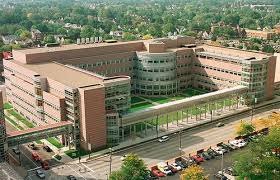 Cleveland Clinic's Lerner Research Institute
Faculty and Research 
The faculty of the Applied Biomedical Engineering program include members from the Departments of Chemical and Biomedical Engineering, Electrical Engineering and Computer Science, Mechanical Engineering, Chemistry, and Physics at CSU, and over 30 adjunct faculty members from the Department of Biomedical Engineering of the Lerner Research Institute at the Cleveland Clinic.  The ABE faculty at CSU and at the Cleveland Clinic conduct their world-recognized research in the following areas:
Biomaterials
Tissue Engineering
Drug delivery
Biomechanics
Automated high-throughput screening systems
Medical Imaging
CSU and the Cleveland Clinic offer a vibrant research environment, including top-notch research facilities, core technical support, weekly technical seminars, and social programs. 
Course Requirements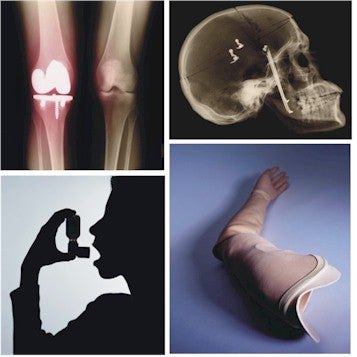 The program provides a foundation built on fundamentals in the life sciences, mathematics, and core biomedical engineering topics.  In-depth knowledge in the specific field of interest is gained from advanced courses in engineering and sciences.   In brief, the course requirements for the ABE program include:
Core ABE courses:
BME 658 Medical Device Design
BME 770 Biomedical Signal Processing
BME 580 Biomedical Instrumentation
BME 850 ABE Seminar
BIO 624 Foundations of Biomedical Physiology
BME 553 Cell and Tissue Biology
One key elective course, selected from the following:
BME 655 Biomaterials
BME 651 Biomechanics
BME 659 Medical Imaging

One course in advanced engineering mathematics
One course in research communications
One course from outside of engineering, in areas such as biochemistry, cell biology, physics, mathematics, health sciences
Graduate engineering electives; options include:
Biomaterials and Tissue Engineering: BME 655 Biomaterials, CHE 586 Fundamentals of Polymers, BME 635 Tissue Engineering, BME 695 Microfluidics, EEC 514 Nanotechnology, CHE 602 Surface Phase Equilibria, CHE 544 Colloidal and Interfacial Phenomena, EEC 515 Biosensors, Bioelectronics, and BioMEMS
Drug Delivery: BME 615 Drug Design and Development, BME 625 Pharmaceutical Assay Development, CHE 566 Biochemical Engineering, CHE 506 Advanced Transport Phenomena
Biomechanics: BME 651 Biomechanics, MCE 695 Biomechanics and Control of Human Movement, MCE 695 Control of Prosthetics, MCE 695 Biosolid Mechanics, CHE 594 Biofluid Mechanics, CVE 612 Finite Element Analysis II, CVE 513 Advanced Strength of Materials, CVE 604/ESC 794 Elasticity
Medical Imaging and Instrumentation:  BME 659 Medical Imaging, PHY 565 Image Processing, PHY 550 Optics, PHY 580 Optical Materials, PHY 660 Electronics, EEC 645 Intelligent Control Systems, BME 694 High-Throughput Screening Systems
View the Graduate Course Syllabi page for all graduate courses here.
For additional program details, see the ABE section of the Graduate Catalog.
For Information Contact:

Graduate Program Director, ABE
Department of Chemical and Biomedical Engineering
Cleveland State University
2121 Euclid Avenue, FH 455
Cleveland, OH 44115-2425
(216) 687-2571 / FAX: (216) 687-9220
E-mail:  biomedengineering@csuohio.edu