Posted on July 5, 2023 at 1:24 PM, updated July 5, 2023 at 1:29 PM Print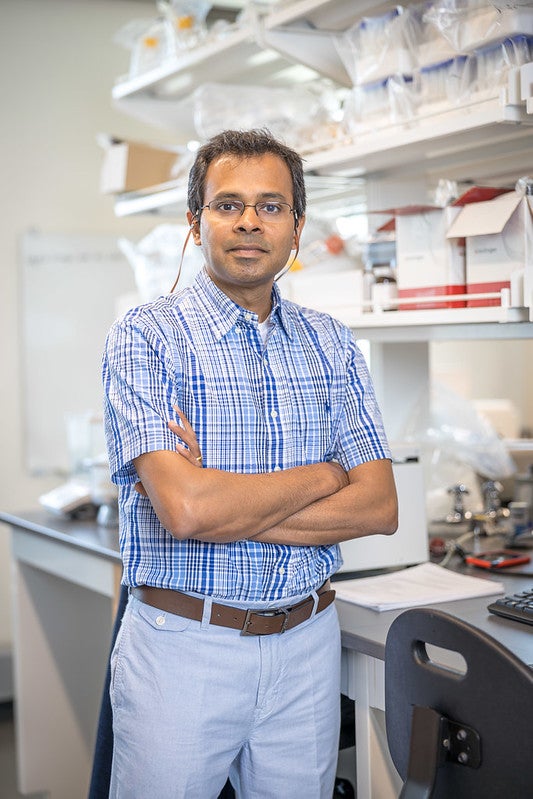 Dr. Chandra Kothapalli, professor in the Department of Chemical and Biomedical Engineering, Dr. Daniel Munther and Dr. Shawn Ryan, both associate professors in the Department of Mathematics and Statistics, will lead a new research project to improve the safety of our food supply. The researchers have received a three year, $498,178 award from the National Institute of Food and Agriculture (NIFA), a federal agency in the US Department of Agriculture (USDA), to support their work.
Problematic levels of Campylobacter and Salmonella bacteria continue to be detected on processed poultry products.  While current control measures have improved poultry safety, they have not significantly impacted human illness rates nor been able to respond in real-time to pathogen contamination issues. Therefore, there is an urgent need for new research to explain the fundamental way bacteria shed from, attach to, and survive on chicken during critical processing steps.
To address these concerns, the CSU team will build tools from experiments and mathematical models to predict pathogen transfer and survival dynamics during the scalding, chilling and post-chill stages of poultry processing. This research is significant, since it will provide the poultry industry with science-based strategies to reduce Salmonella and Campylobacter contamination levels during processing. The resulting new insight into pathogen cross-contamination will also furnish key information for public health experts seeking to characterize risk along the poultry supply chain.  Ultimately, the work will help to provide all Americans access to safer poultry products and help ensure the USDA's continued global role at the cutting edge of food safety.
This article originally appeared in the Cleveland State University Research Newsletter, Issue June 2023.
About CSU and the Washkewicz College of Engineering
​​​​​​Cleveland State University is a public institution located in Cleveland, Ohio. The university has an enrollment of more than 16,000 students in programs at the baccalaureate, masters, and doctoral levels. The university is accredited by the Higher Learning Commission and is currently awaiting reaffirmation of accreditation. Washkewicz College of Engineering offers graduate and undergraduate program. The undergraduate programs are accredited by the Accreditation Board for Engineering and Technology (ABET) (http://www.abet.org). This year, the College will celebrate its Centennial Anniversary. To learn more about the College, please visit: engineering.csuohio.edu.